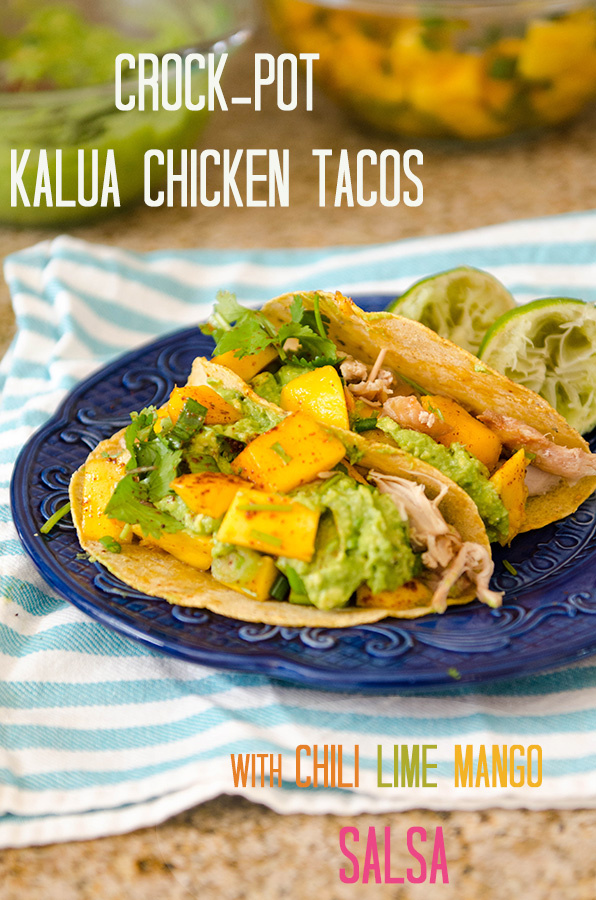 Last weekend we moved.
There is a slow and heavy chaos that comes with moving. A tired sort of chaos. The kind of chaos where your arms and your back start to ache so you just shove boxes labeled "Gina's Shoes" into the guest bathroom next to the shower. Your box labeled "Super Important Office Stuff" is buried somewhere in a sea of boxes in the garage, most likely under my childhood doll furniture. I still can't find my favorite bra. It's getting weird. We'll figure it out later. The kitchen is unpacked. The living room seems livable. We're moving through the moving process. Let's just not talk about the office. Or the bedroom. Or the guest room.
Let's just not talk. Let's eat. That sounds best.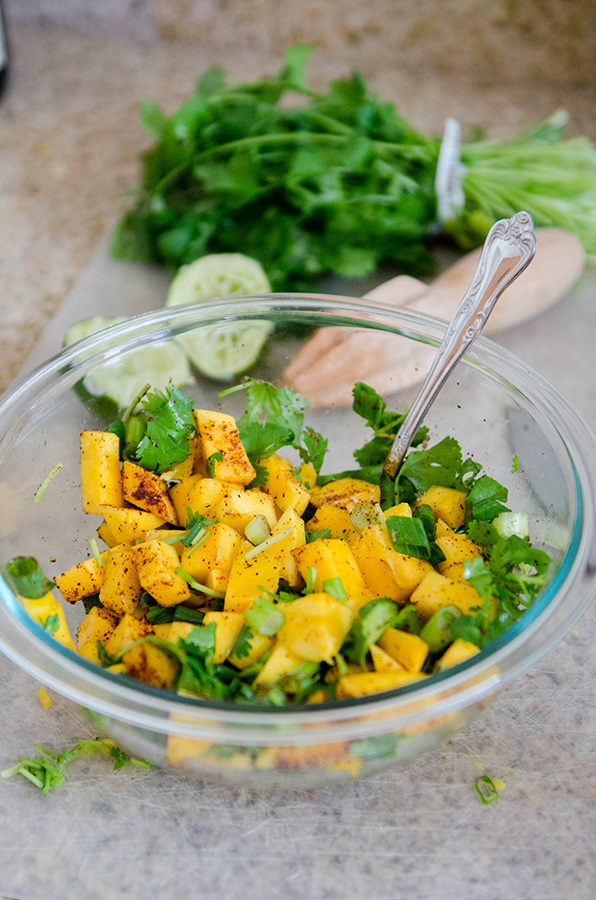 Since Cinco de Mayo is coming up, I decided we were going to christen our new kitchen with TACOS. But, not just any old taco. I wanted to make Hawaiian-style tacos. I wanted my new house to smell like my grandmother's kitchen.
So, with that, I threw some chicken thighs into a slow cooker with some Hawaiian sea salt and some liquid smoke. This is going to make Kalua Chicken. Remember when we made Kalua Pork a while back? It's the same concept, just with a different protein. Also, the chicken thighs are going to cook up a bit faster than an entire pig butt. But, if some Kalua Pork made it's way into this taco, it would be equally amazing. Your taco. Your choice.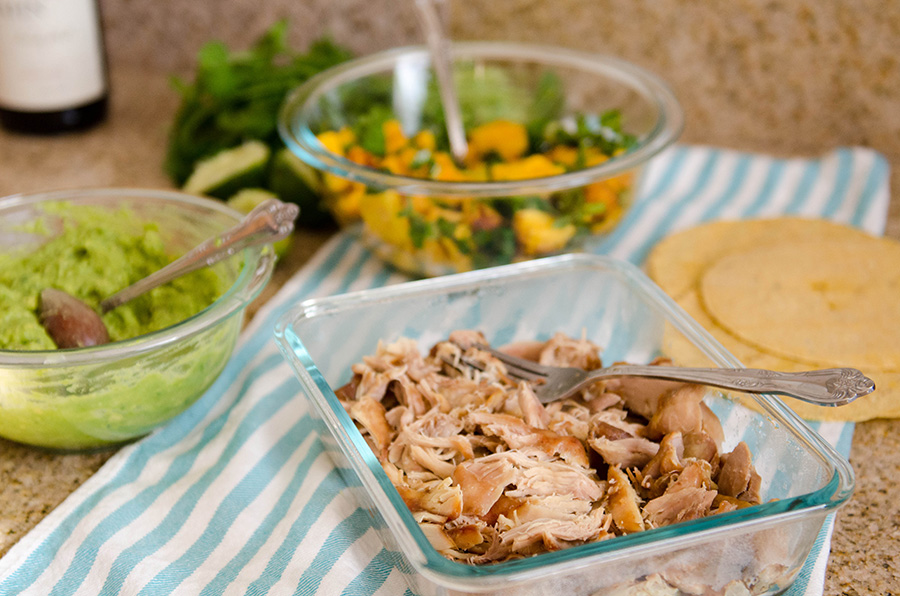 The salsa is a memory. All of those summer days my husband and I spent at the park when we lived in Los Angeles. Sweating. Picnicking. Getting weird tan lines. Buying those peeled mangoes on a stick doused with chili and lime from the vendors that made their way around the park. To me, those are the flavors of summer. Oh, and they go really well with the salty, island taste of the Kalua Chicken. Whip up some fresh guacamole or grab some from the store. I'm not too picky. Shove it all into a corn tortilla. CHOMP. If you're looking for a more Paleo-friendly version, just omit the corn tortillas and replace them with fresh butter lettuce leaves. You could even put it all over a bed of greens (I did that with the leftovers for breakfast–NO regrets).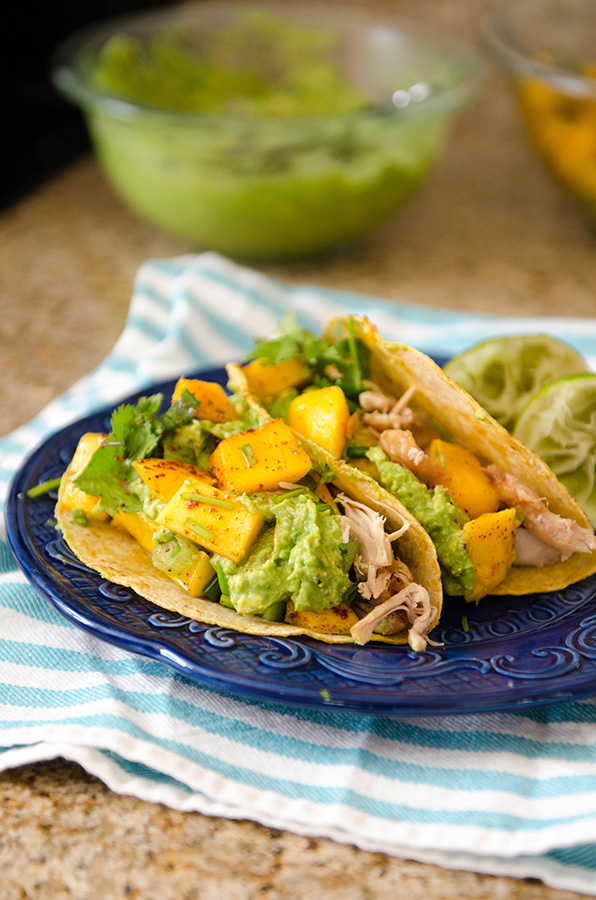 These really blew my mind. I'm not going to lie… we're making them AGAIN tonight. Pair them with these Watermelon Margaritas or this spicy Jalepeno and Grapefruit Margarita and you've got a complete Cinco de Mayo meal.  I hope you like this Hawaiian and Mexican mash-up just as much as I do.
Okay… time to go start the slow cooker and get back to digging ourselves out of our moving-box palace! Cheers, friends! xox
Crock-Pot Kalua Chicken Tacos With Chili Lime Mango Salsa
Serves 4
adjust servings
Ingredients
Kalua Chicken
Chili Lime Mango Salsa
1

large mango, chopped

2

stalks of green onion, chopped

6

sprigs of cilantro, diced

Juice of 1 lime

1

tsp chili powder
Other ingredients
Guacamole (fresh or store bought)

Corn tortillas

If you're grain-free you can sub in butter lettuce leaves or a leaf of your choice for the tortillas!
Instructions
Plug in your slow cooker and turn it to low.
Add your chicken thighs, liquid smoke and Hawaiian sea salt. Make sure that all of your thighs are coated evenly. Put on the lid to your slow cooker and cook on low for five hours or until chicken thighs are cooked through and tender. Use a couple of forks to shred your chicken.
Once your thighs are about done, make your salsa. Add your chopped up mango, green onions, cilantro, chili and lime to a bowl and mix well. Let it sit for fifteen minutes or so in order to marinate a bit.
Once your chicken and your salsa are ready, heat up your tortillas and pack them with each of the elements! Enjoy!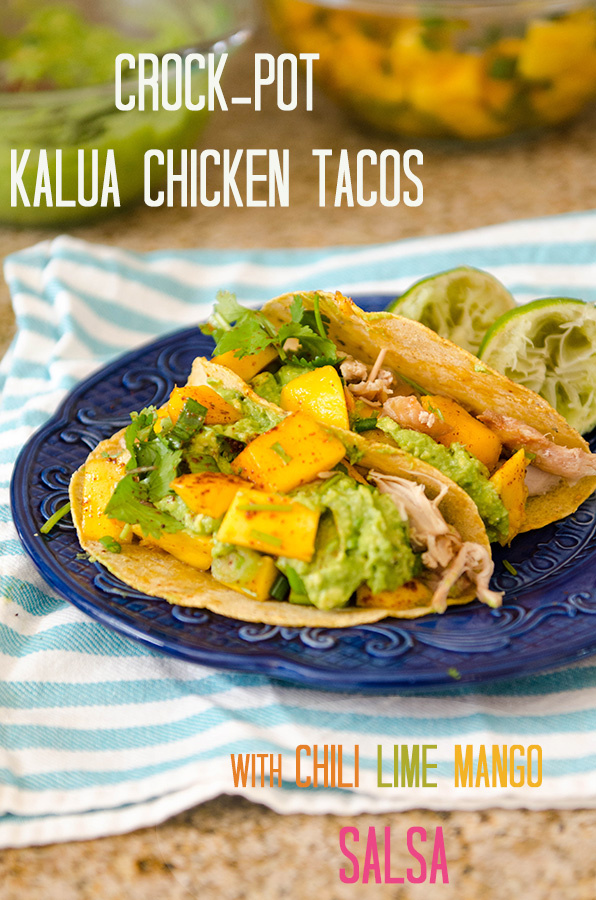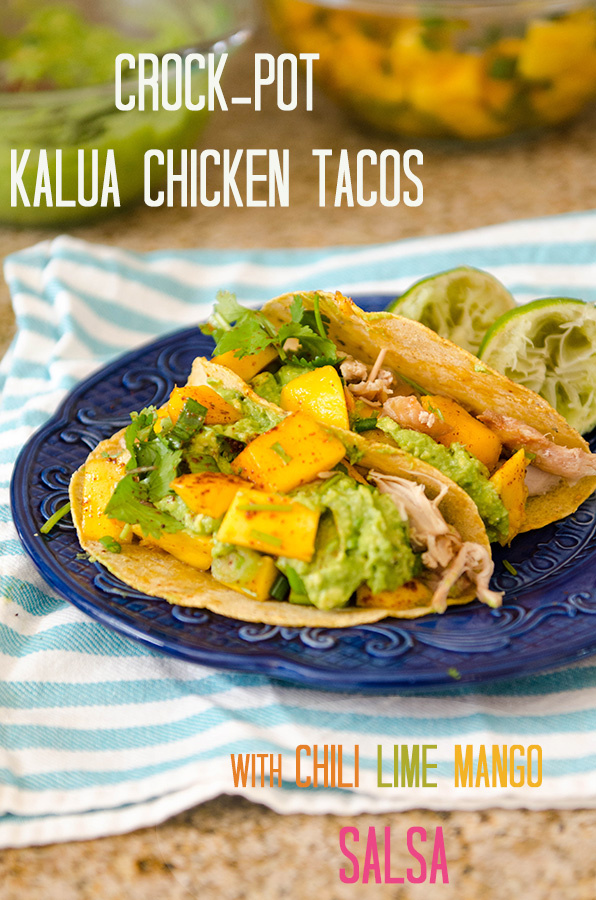 PAID ENDORSEMENT DISCLOSURE: In order for me to support my blogging activities, I may receive monetary compensation or other types of remuneration for my endorsement, recommendation, testimonial and/or link to any products or services from this blog.