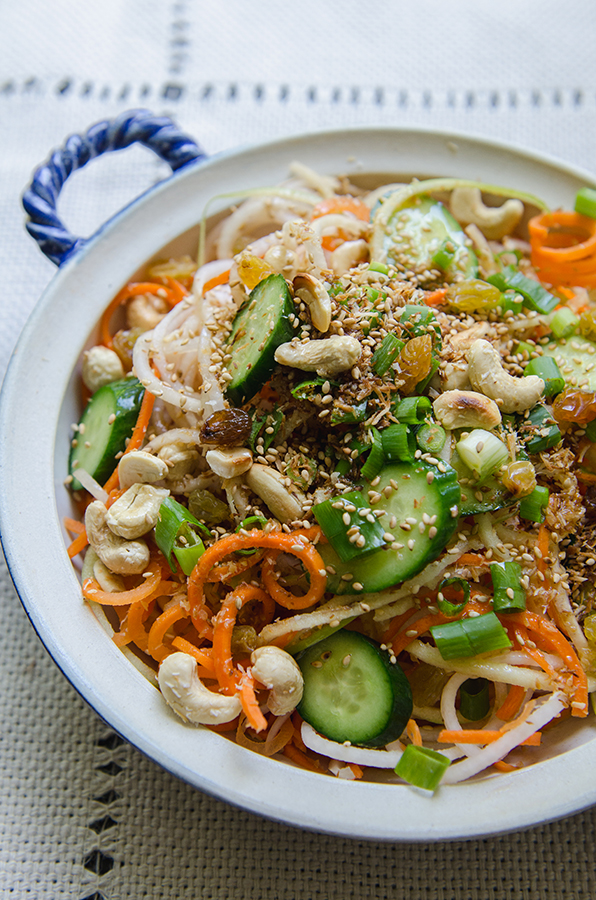 I haven't sat down to write in this space for three months.
Well, that's not entirely true. I've come here. I've flipped the lid of my laptop. I've stared blankly into the screen. I've opened up a fresh document and wrote over a thousand emotional words about the hollow exhaustion I feel on this lengthy health journey–plus, just all the feelings.
Feelings about shootings,  infuriatingly flippant rape convictions and all of the tirelessly troubling news that seemed to hit over and over again during the summer. The 2016 political climate and how IDONTUNDERSTANDWHATISHAPPENING.  I wrote about why I wasn't writing. I just wrote all the words that came up. The word vomit. Out of my finger tips. Finger vomit? Feelings vomit? Finger feelings? I wrote those.
How do I say all the things I need to say? How vulnerable is too vulnerable? Do I even have anything important to say? I've been silent for too long. Do I even remember how to blog?  This is a food blog, should I even talk about rape here? So many important things are going on, not to mention the crippling exhaustion I've faced these last months struggling with my own health. Should I let them know that sometimes, even though I'm strong, I cry and sincerely fear that I will never be healthy again? Should I really just write about salad? Look, here's a nice salad. Surely I can't come back from not saying any words, and being silently overwhelmed with emotions, just to jump back in like nothing ever happened and make you guys a salad!!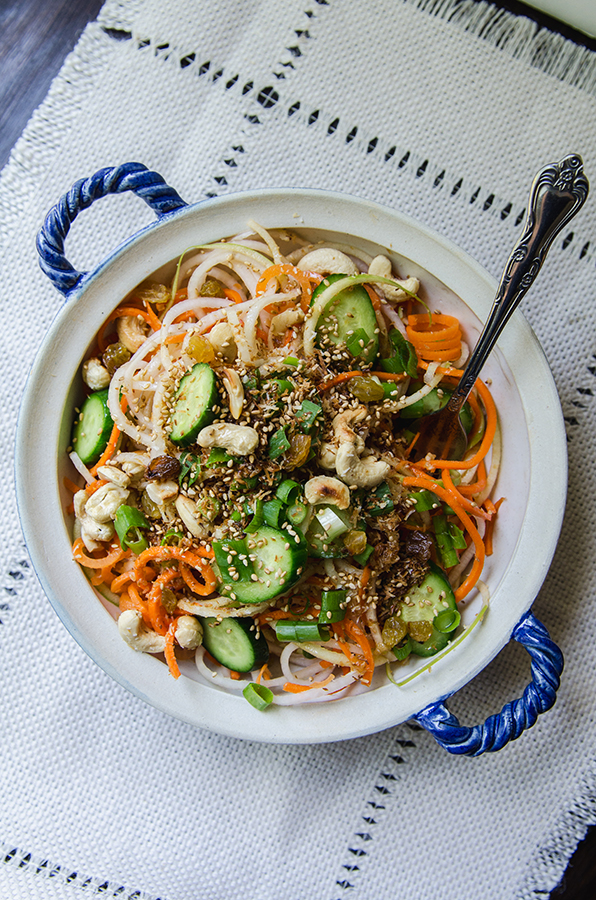 So, I made you a salad.
Not because the other things don't matter. Not because I don't have things to say. Mostly because I have too much to say, and this is how I'm going to try and dip my toes back in. This is the baby step. This is my "Hello, I guess I should get out of these sweatpants now." This is my plea for you to just go with it and grab a fork and split a salad with yo' girl.
The other stuff will come later. I think I should share more things on here than just fabulous salads or paleo brownies or hunks of delicious meat. All those things are good, but I need to write more of what I'm going through–what we're all going through. If for nothing else, than to act as some kind of hippie spiritual soul medicine.
It's kind of empowering to realize this is a site I created and I totally set the rules in this saloon. Like, remember when I started blogging and I used to just post doodles? There are no real rules. Except, the no rules rule. Or, the be nice to people rule. Or, the eating a whole chocolate bar is totally okay if you do it super quickly and it doesn't count because it disappeared so fast rule. The last rule isn't strictly enforced or legitimately a real rule. Maybe the rule should be that I shouldn't make rules. OHEMGEE, IF I SAY THE WORD RULE ONE MORE TIME, I'M GONNA FREAK OUT. Yikes. This all came to a head swiftly. Ja Rule. Remember him? Ok, I'm done.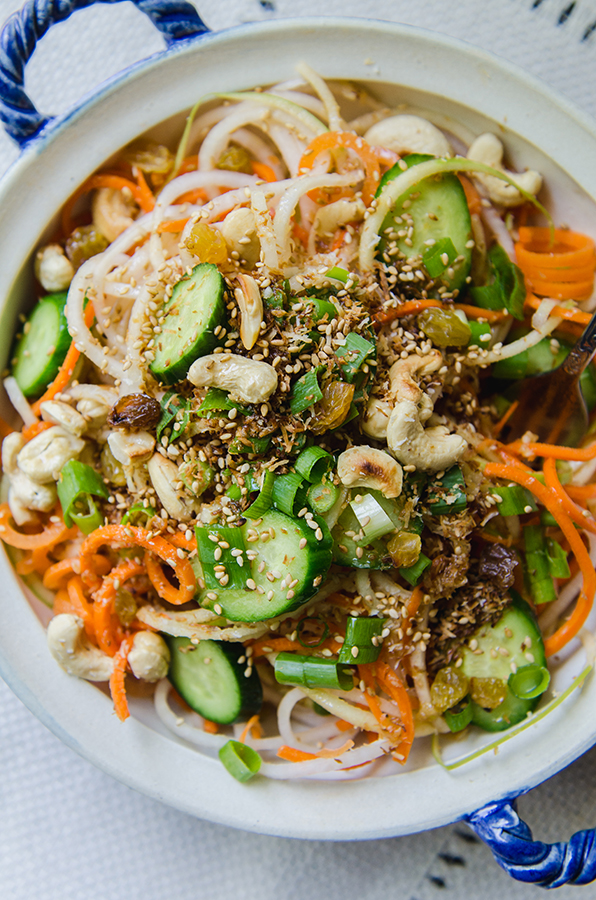 So, let's briefly and casually discuss salad–specifically this salad. It's one of those no lettuce numbers. We're packing pure crunch and flavor here. Sometimes it's nice to take a departure from regular ol' greens and embark on some new textures. Mouthfeel, amiright? The toasted nuts and coconut just make it extra mouthfeel-y.  Plus, the sesame and ginger dressing is seriously addicting! Did I mention golden raisins? Because, hollllllerrrr. I don't even know you guys. My blogability is rusty at best. But, I'm here–blogging about salad. Saying hello. Reminding you that Ja Rule was a person who did remixes with J-Lo, and telling you that I'll be back soon.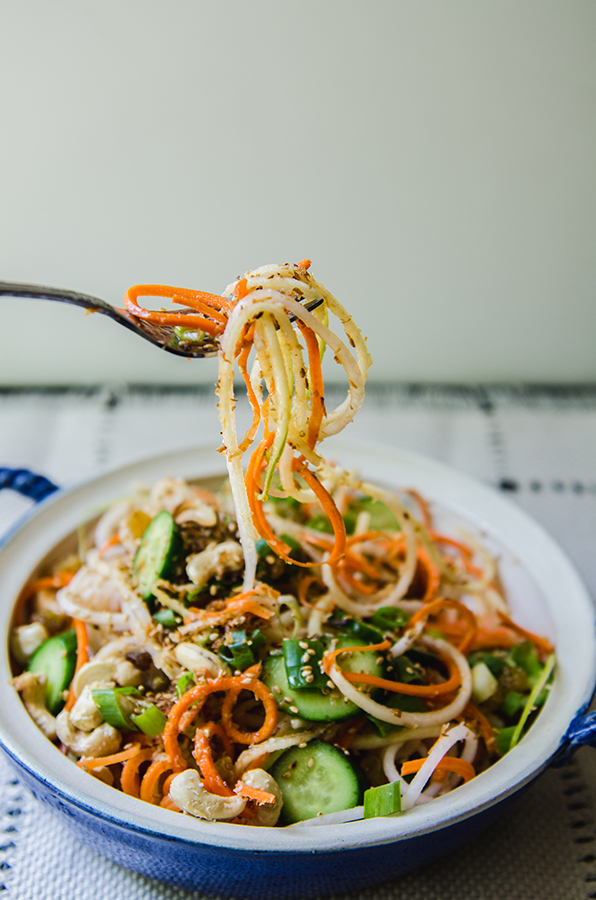 I love you more than salad–so, that should mean a lot. CUZ, DAYYYUM.  xoxo
Daikon And Carrot Noodle Salad With Sesame Ginger Dressing
Feeds 1-2 hungry humans
adjust servings
Instructions
Using a spiralizer (this is the one I used for this salad). spiralize the carrot, daikon radish and apple using the blade with the smallest grates. Add the noodles to a bowl to create the base of your salad.
Top with chopped cucumbers and scallions. In a small pan, lightly toast the cashews and the coconut flakes until they are just golden brown and fragrant.Make sure to stir frequently and keep an eye on them so they don't burn. It happens quickly. Add this mix to the top of the salad along with the golden rasins and sesame seeds.
To make the dressing combine all of the items under "dressing" into a mason jar. Give it a good whisk with a fork. Cover the jar with a lid and shake until the dressing comes together. This is just the method I used here. You could mix them together how ever you'd like. Use a whisk, or a blender. You're totally in control here. ?
Once your dressing is ready, pour it over your salad and toss. Serve and enjoy!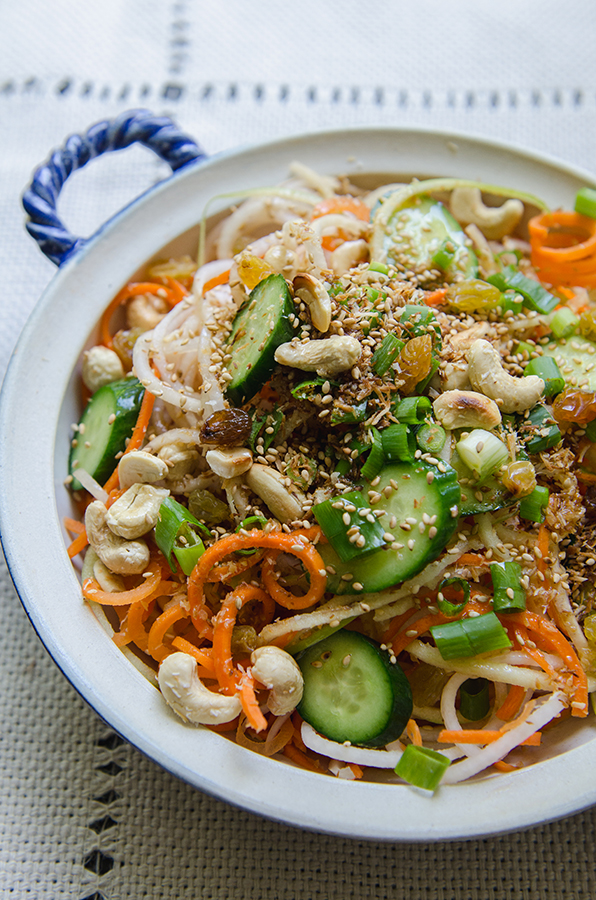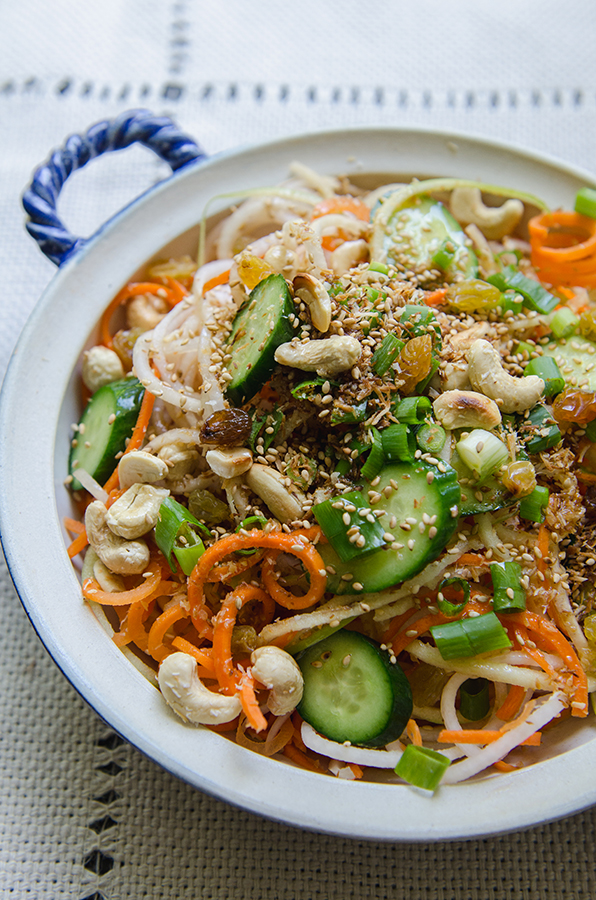 PAID ENDORSEMENT DISCLOSURE: In order for me to support my blogging activities, I may receive monetary compensation or other types of remuneration for my endorsement, recommendation, testimonial and/or link to any products or services from this blog.