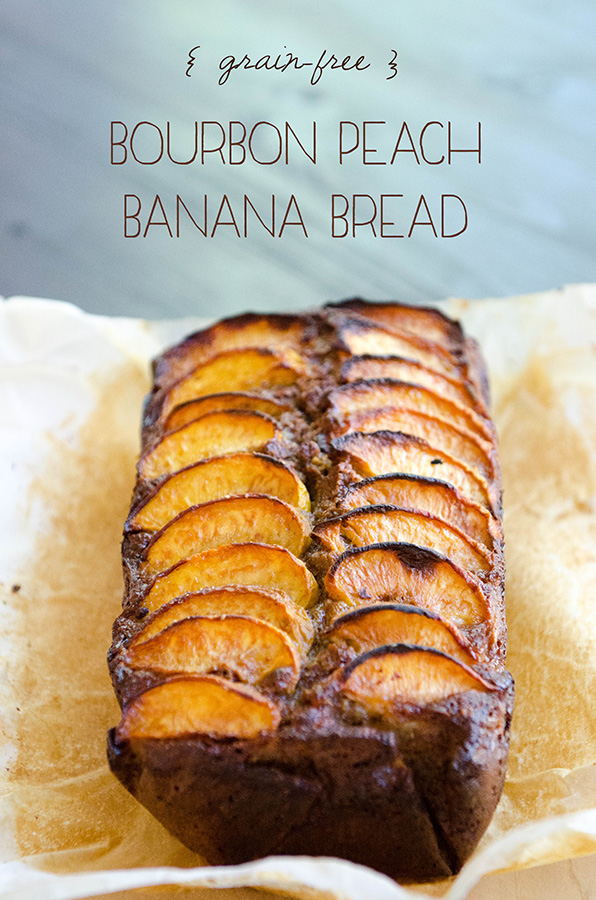 Having recently moved into a new home, I can tell you I have a lot of things. I've had to take stock of these things and move them from one location to another. This is the time where I might find boxes of high school love letters and poetry, a sweater someone from Norway once gave me as a gift, bins of yarn — some of it tangled — and two leather trench coats. I will tell you that all of those things I mentioned are still in my garage. In fact, a lot of things are still in my garage. It's been about four weeks since we've moved into our new place and I haven't needed any of those things. Part of me wants to set fire to the clutter and be rid of it (although I'm fairly certain my land lady would be pretty miffed). All of those boxes gone in one blaze of horrifying glory. Yes, this is the lazy part of my brain speaking. The part of my brain where arson seems like an easier out than organizing a craft closet.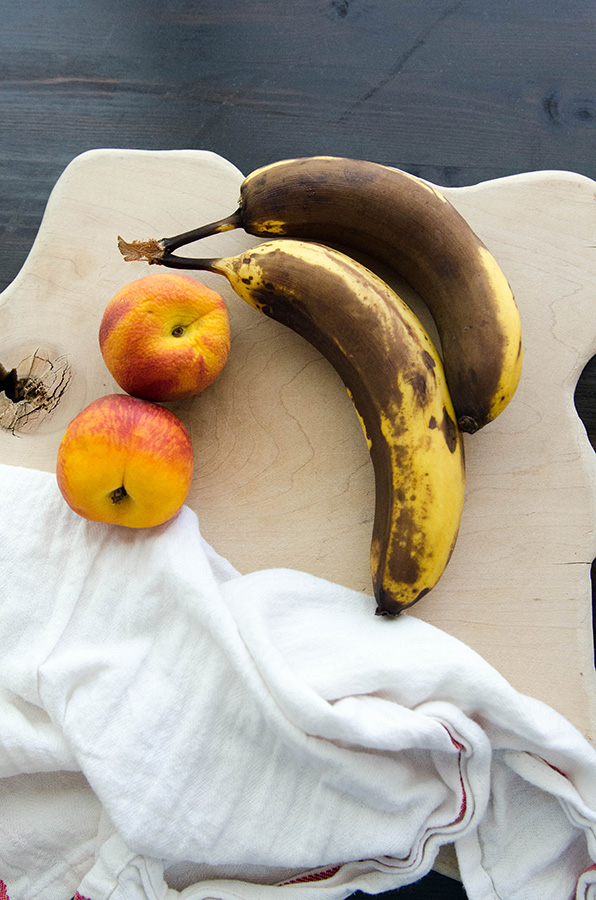 You know what else seems to be happening? A feverish need to use EVERYTHING I've purchased at the grocery store before letting in any new groceries. Perhaps this is my way of controlling the clutter. Yes, I have a weird amount of DVDs, stuffed animals and fake blood cluttering up the garage — but by golly, don't let in another grocery that doesn't have a purpose. I'm just trying to make things manageable. Note: anything is more manageable than trying to organize a craft closet. Why do I have that much felt?! So, in the spirit of waste-not want-not, I've crafted this bread out of two mushy nanners and a couple of wrinkly peaches. The bourbon, well… that just happened to fall in there. Whoops. You'll thank me later.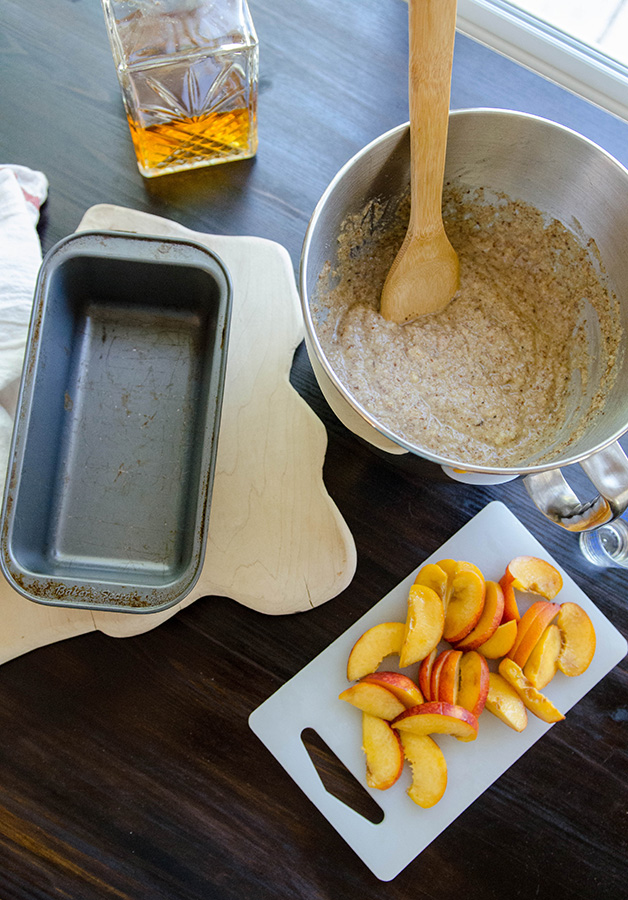 Still to this day I get little love notes from readers about my Tipsy Blueberry Banana Bread! So, I used that bread as a starting template to create another drunken loaf of banana bread. As far as I am concerned, banana bread is like a pair of yoga pants that make your butt look all badonk-adorable. Sure, it's great to have one pair in your arsenal, but more is better. That's why I refer to it as butt-nana bread. I don't actually do that. You shouldn't either. I'm just sorry.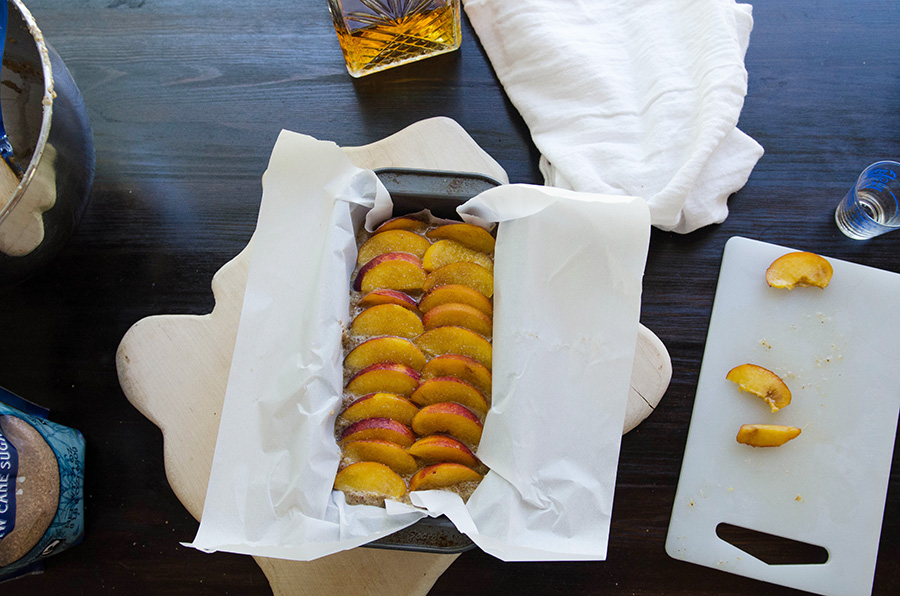 However, you should totally chop up some peaches and line them up all pretty over some bourbon-laced banana batter. That is something you should totally do. I won't even make a reference about yoga pants or butts or craft closets. This can stand on its own. However, if you have to organize a craft closet today you can totally add an extra shot of bourbon to this recipe— just instead of mixing it in the batter you toss it into your mouth. Good work. Now, throw that loaf in the oven and do a jig while you wait.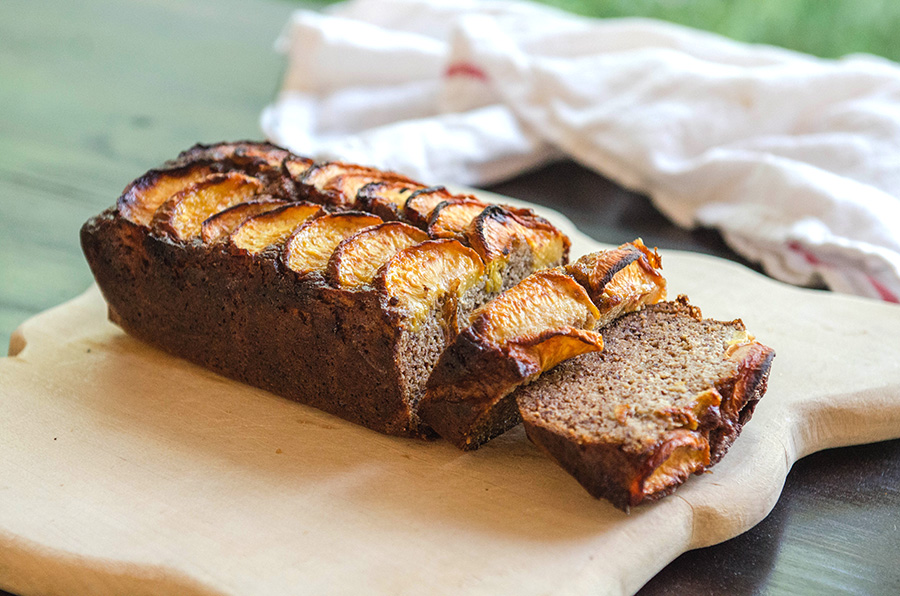 Okay, stop jigging and remove your boozed-up bread out of the oven. Look at them peaches. Nice, right? Give it a chance to cool and then cut yourself a thick slice. I like mine slathered with a bit of butter and honey.
And just like that we've taken some beat-up lookin' fruit and made it into schmancy-pants bread. Operation Use All The Things: Complete.
Like bananas as much as I do? You might like this Grain-Free Banana Walnut Cake, Grain-Free Banana Cranberry & Lemon Breakfast Cake, or my Banana Nut Granola with Quinoa! #BananaAllTheThings
Grain-Free Bourbon & Peach Banana Bread
Ingredients
1

cup almond meal

1/4

cup coconut flour

1

tsp baking soda

1/2

tsp salt

1

tsp cinnamon

2

tbs coconut oil, liquid state

3

eggs

1/4

cup maple syrup

2

ounces bourbon

2

very ripe bananas, mashed

2

small peaches, sliced

Turbinado sugar to top (optional)
Instructions
Preheat your oven to 350 degrees.
Add your almond meal, coconut flour, baking soda, salt and cinnamon to the bowl of a stand mixer. Mix it for a couple seconds so that it is well combined.
In a separate bowl add your eggs, bourbon and maple syrup. Whisk until fully combined.
Turn your stand mixer on low and slowly add your wet ingredients into your dry ingredients. Once those are combined, add in your bananas and mix until everything is combined.
Create a parchment sling by lining your bread pan with a piece of parchment paper. The parchment paper should be coming over the sides of the pan. This will make it easier to remove.
Pour your batter into your parchment lined bread pan. The weight of the batter will help to weigh the parchment down. Use a spatula and make sure the batter is spread out evenly.
Arrange your sliced peaches on top of your batter and sprinkle a bit of turbinado sugar on top.
Bake for 40-55 minutes, or until the bread is set in the middle and is a lovely golden brown. If you insert a knife in the center is should come out clean.
Allow your bread to cool for ten minutes or so before removing it from your pan. Use the corners of the parchment paper sling you've created to remove it. Allow it to cool for several more minutes before slicing.
Once it's cooled slightly you can slice it up and serve! It goes great with some butter and a drizzle of honey.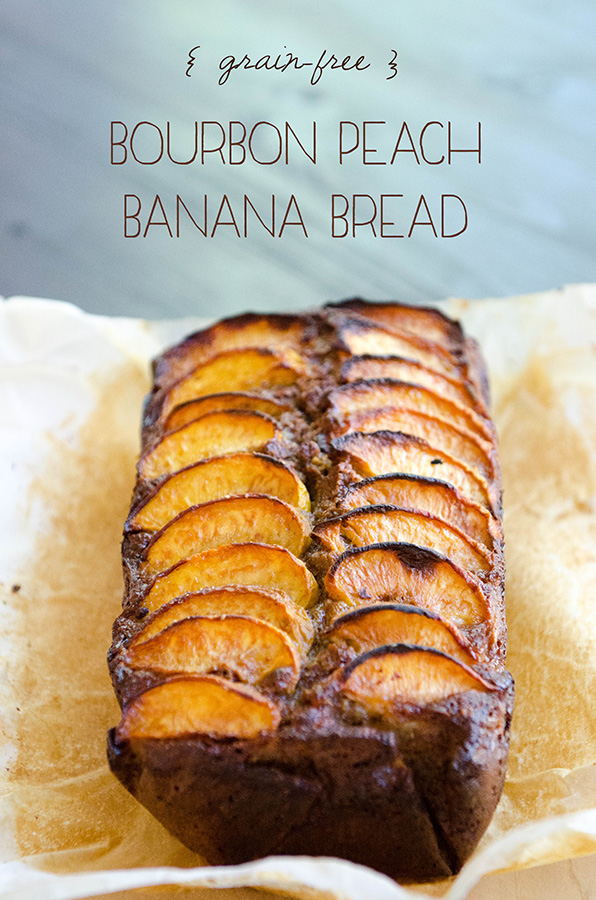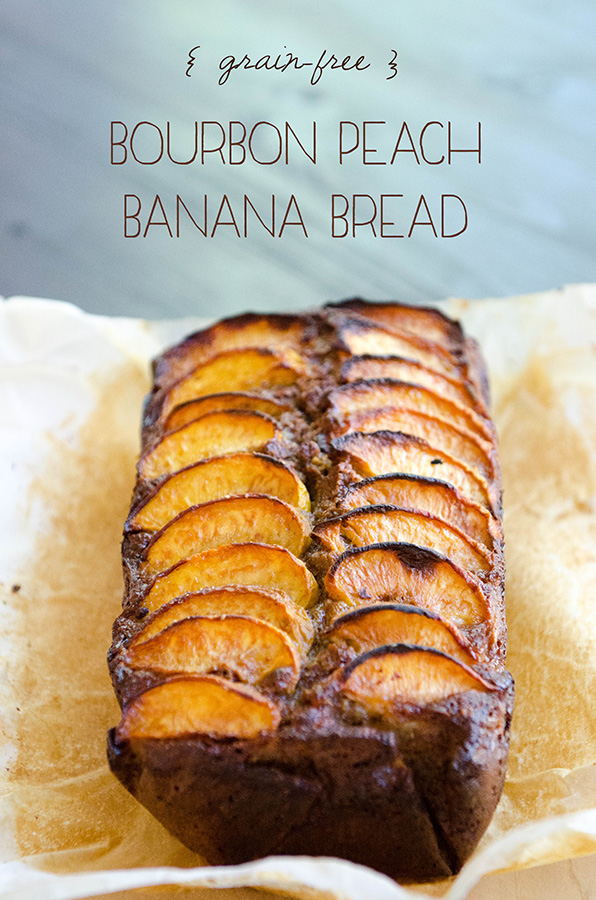 PAID ENDORSEMENT DISCLOSURE: In order for me to support my blogging activities, I may receive monetary compensation or other types of remuneration for my endorsement, recommendation, testimonial and/or link to any products or services from this blog.