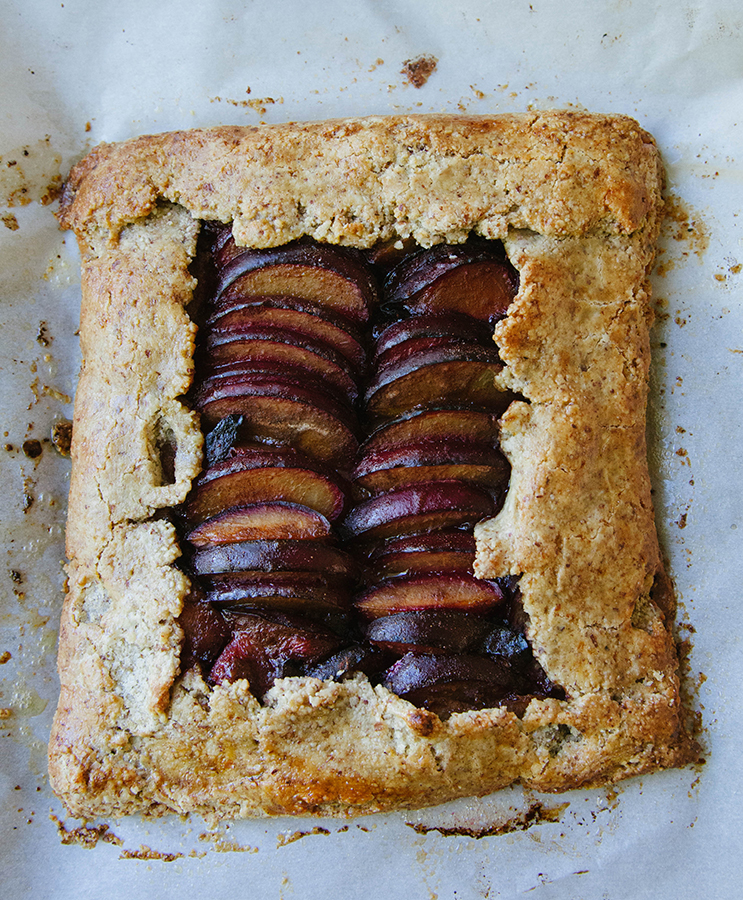 It's Wednesday. It's totally time to  TREAT YO' SELF.
We've been keeping things pretty savory lately with Soy & Ginger Crock Pot Ribs and Tomato & Coconut Chicken Curry. There's been oodles of zoodles. Some with peanut sauce. Some with pesto and roasted tomatoes. And while we can probably all agree that savory flavors are their own treat,  I think we deserve something sweet. That rhymed. I feel like a culinary Dr. Seuss. Plum Galettes here and there, Plum Galettes everywhere. Do you like my hat? I do not like your hat. Goodbye. Okay… did I lose you? I read a lot of Dr. Seuss as a kid.
But, back to treats. I'm here to help. I'm bringing you a recipe for some hot n' sassy plums nestled all comfy-like in a butter-laced almond meal crust. Oh, and I'm totally giving away a copy of the book that inspired this fine creation. See? Treat. Yo. Self.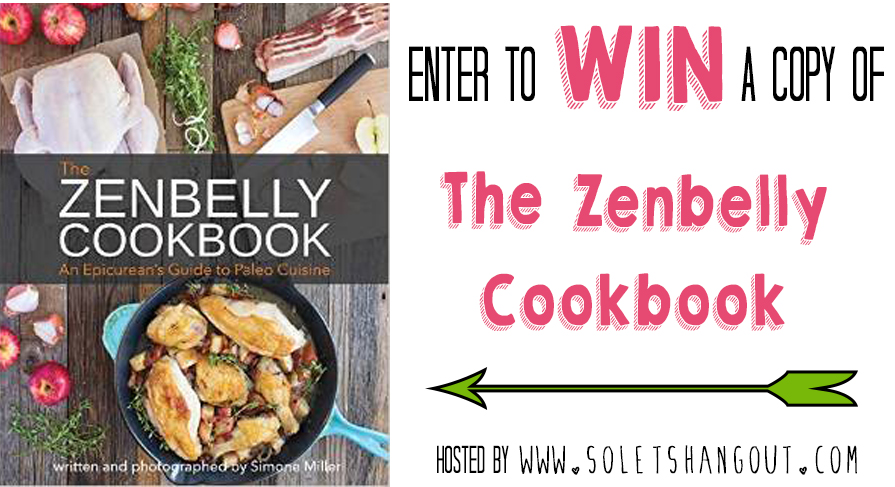 So, this book.
How do I even describe what's going on here in the Zenbelly Cookbook? I could tell you that there is a recipe for Maple-Bourbon Bacon Jam and I keep on meaning to take a picture of myself pretending to make-out with these pages and then post it to Instagram. But, then I keep flipping through the book and realize that if I posted a picture of myself making out with the jam, then that would mean I would have to take a picture of myself tonguing the Thai Green Curry Muscles and the Fresh Herb Lamb Burgers With Raita. Oh, and don't forget the Lemon Pound Cake! See where this is going? It would just be an Instagram stream flooded with pictures of me making out with a cookbook. It just seems like a slippery slope. Really, really slippery.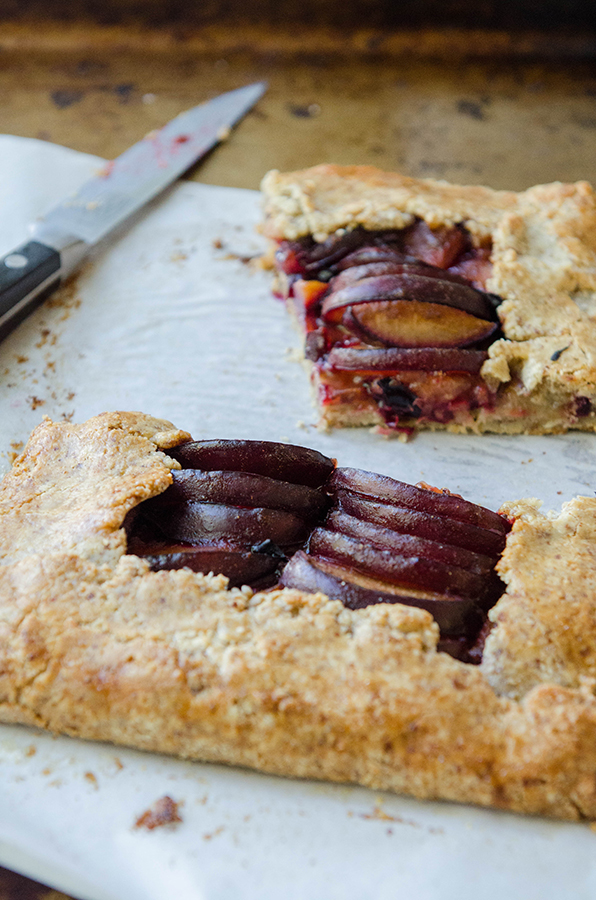 The book is written by Simone Miller. She's a real-deal chef, rocking the catering world of the San Francisco Bay Area with her mouthwatering paleo cuisine. She also blogs over at Zenbelly. Um, today she posted a recipe for Grain-Free Challah Bread, so clearly the girl is NO JOKE. Her book is filled with mouthwatering (make-out worthy) recipes and some helpful tutorials like "How To: Cut Up A Whole Chicken" or her special tutorial titled "Gina: This Is How To Hold A Knife, So You'll Stop Cutting Your Fat Fingers". Actually, I think that one is just titled "How To: Hold A Knife", but obviously it spoke to me. Wanna peek at some of the pages and perv at the table of contents? CLICK HERE to check it out.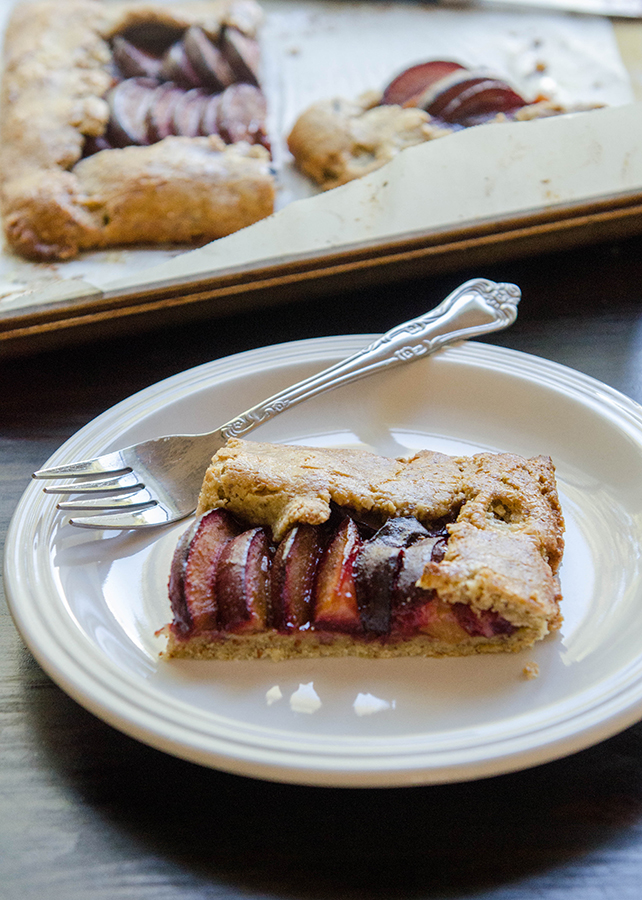 This recipe is a twist on the Rustic Apple Galettes from the cookbook and shares the same delicious pastry base! It was easy to make and oh-so-buttery-good! So, what are you waiting for? Let's preheat our ovens and enter to win a dang cookbook! I'll say it again. Treat. Yo. Self. 😉
In order to enter the giveaway follow the steps below! Good luck!
1) Sign up to receive the So…Let's Hang Out Newsletter. I will shoot you the occasional e-mail to keep you in the loop. You'll get recipes in your inbox and a sweet note letting you know about giveaways such as these. No spam, because that's rude.
Subscribe to So…Let's Hang Out 
Grain-Free Cardamom Spiced Plum Galette
4 slices
adjust servings
Instructions
Preheat your oven to 350 degrees
In a medium mixing bowl, you're going to combine all of the ingredients for the fruit portion of the galette. Combine your plums, arrowroot powder, cinnamon, cardamom, coconut sugar and lemon juice. Toss gently until the fruit is coated evenly. Set aside.
In a separate mixing bowl, whisk together the almond meal, the remaining arrowroot powder, coconut sugar, and salt. Cut the cold butter into small pieces and work into the dough using either a pastry cutter, two knives or clean hands.
Add one of the eggs and the vanilla extract into your dough. Keep mixing until a dough comes together.
Wet your hands a bit and work the dough into a manageable ball. Lightly dust a piece of parchment paper with a bit of arrowroot powder. Place your ball of dough in the center of the parchment paper. Dust a rolling pin with a bit more arrowroot powder and roll out the dough into a rectangular shape. You want the crust to be thin, but not so thin that you can't fold it over to form the galette.
Arrange the plums in the center of the rolled our pastry dough. Leave enough space on each edge so that you can fold in the edges of your galette.
Carefully fold up the sides of the dough to the outer edges of the plums, leaving the fruit center uncovered.
Beat the additional egg in a small dish and egg wash your galette using a pastry brush.
Slide the parchment paper holding the galette gently onto a baking pan. Bake for 25-30 minutes or until the crust is golden brown and the fruit has softened.
Cut into four slices and serve. Enjoy!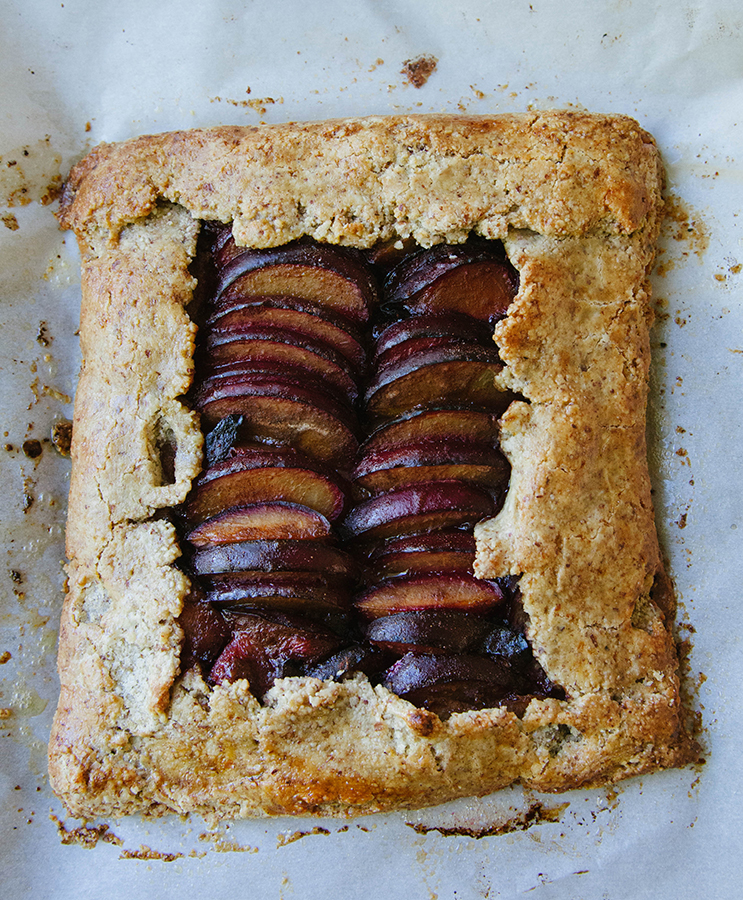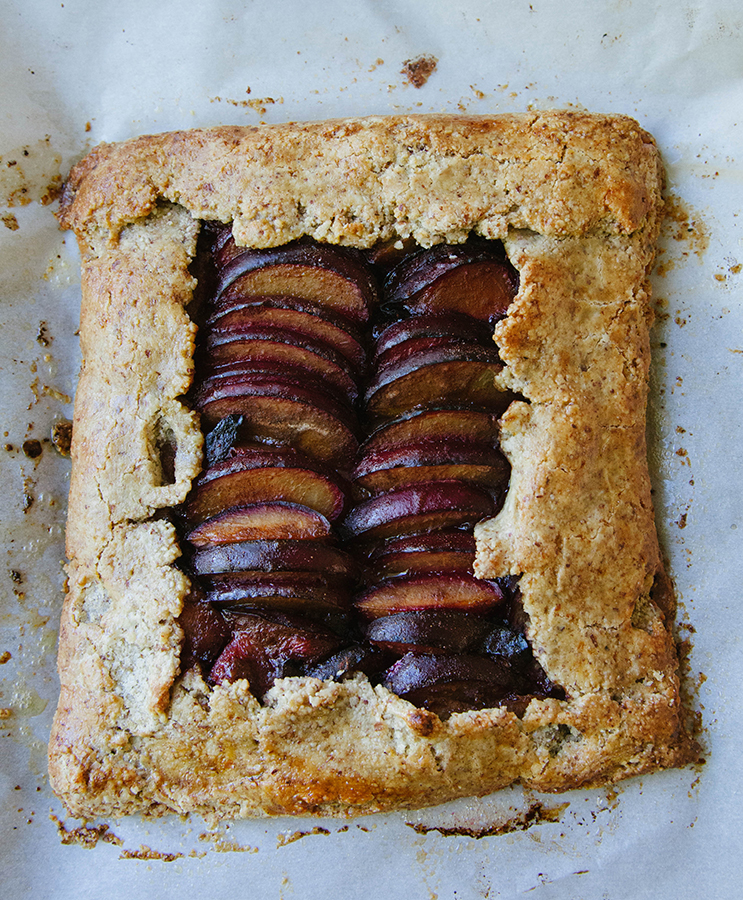 PAID ENDORSEMENT DISCLOSURE: In order for me to support my blogging activities, I may receive monetary compensation or other types of remuneration for my endorsement, recommendation, testimonial and/or link to any products or services from this blog.