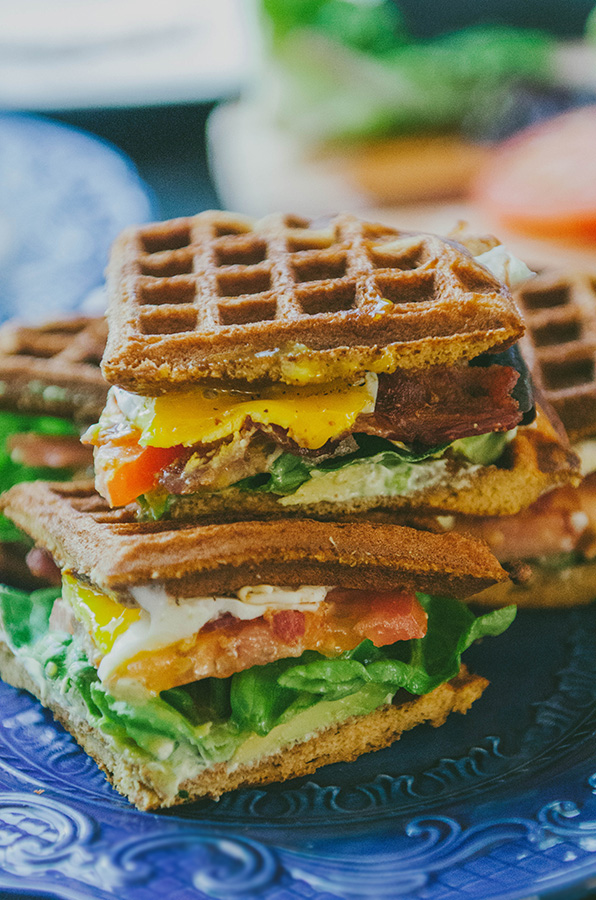 It's been three weeks since my oven broke. It's still broken. There's this whole commotion about a broken computer piece and if they make the replacements for my particular oven model anymore. It's resulted in a very confused elderly land lady, and a slightly frustrated food blogging tenant (that's me).
It's not like I can't cook ANYTHING. I have a working stove top, a couple of crock pots, a pressure cooker, a deep fryer, and a dehydrator. But, since I know my oven is broken it only makes me want to use it more. Go figure, right?  I've found myself lamenting over whole roasted chicken with crispy chicken skin, crispy Brussels sprouts, cookies and scones. I feel slightly incapacitated. How can the girl who makes food for a living not have a functioning oven? I was trying to make analogies and all I could come up with was it feels like I am a concert pianist with lobster claws instead of hands.  This metaphor might lean towards the dramatic.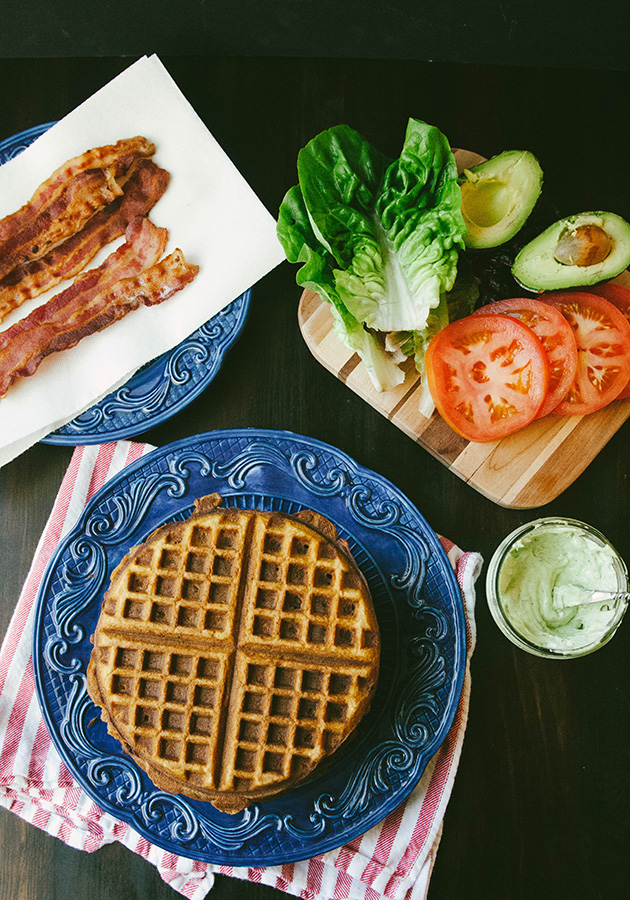 This whole situation has made me take stock of every single kitchen appliance available to me. I dusted off a very underused waffle iron. We looked at each other. We nodded knowingly. We both agreed to make these Sweet Potato Waffles and shove them full of bacon and other BLT fare. While the waffles were cooking, I looked at my immersion blender. She winked at me coquettishly with her shiny blades. I winked back. Now… sometimes when a women falls in love with her personified immersion blender, they like to express that love. Shortly thereafter mayonnaise will be born. Or, in our, case we really went for it and made a Garlic Basil Aioli. Yes, that's love making at its best.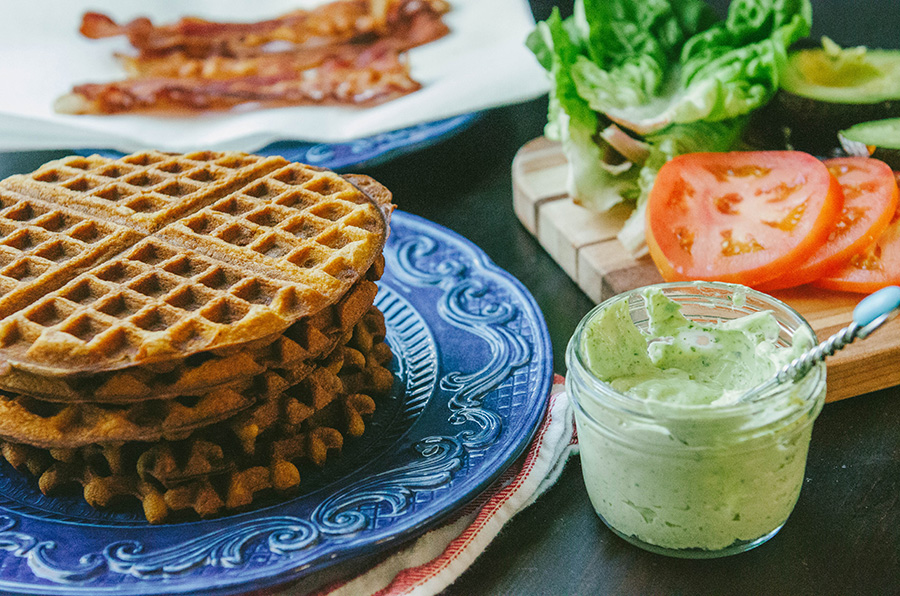 The waffles are going to act as our bread. They will be slathered with our homemade schmancy-mayo and then piled high with all of the fixings. I personally like to turn a BLT into a BLAT with some avocado. It's funny how one ingredient can change the letters of your sandwich to make it sound infinitely less appetizing.Think about it. Order a Bee Elle Tee. How dignified. Now, order a Blaaaaat. Sounds like splat, or rat, or the sound made when you're eating a sandwich and a little of the filling squirts out and lands on your chest. As in, "BLAT! She looked down to see mustard and a piece of roasted turkey sitting high on her chesticles. Too bad she had a business presentation after lunch. Too bad the author used the word chesticles. It's all just too bad". Fortunately for everyone, a BLAT tastes a trillion times better than the heartbreaking sting of getting mustard on your blouse.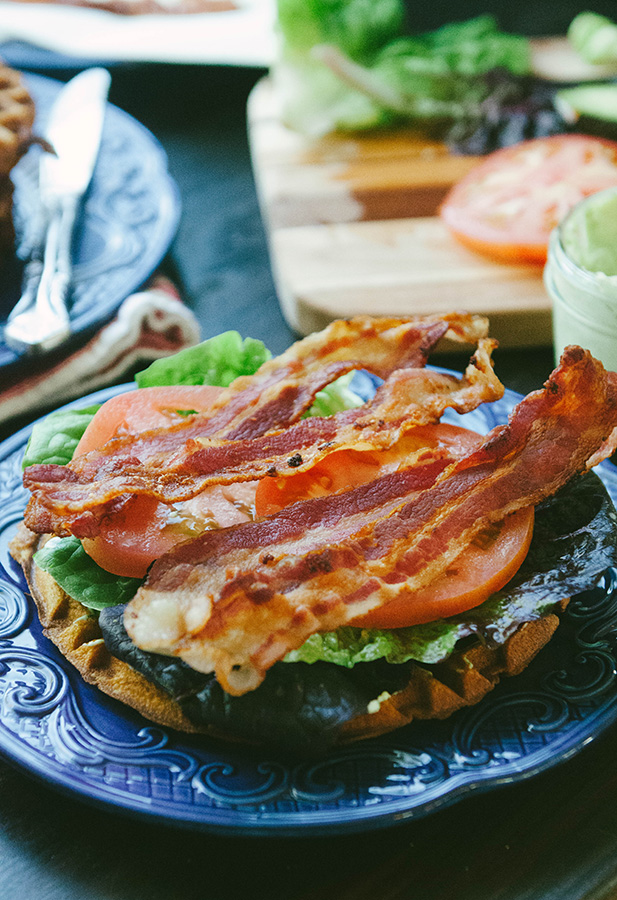 I started assembling my BLT turned BLAT and decided that we could take this a step further. Sure, we already have waffles holding onto our sexy mayo and our crispy bacon. There's avocado peeking out under that lettuce and a big slice of juicy tomato sitting pretty. This in itself feels slightly indulgent and fancy. But… what if we turn that BLAT into a BLATE? In layman's terms, add an egg if you're nasty.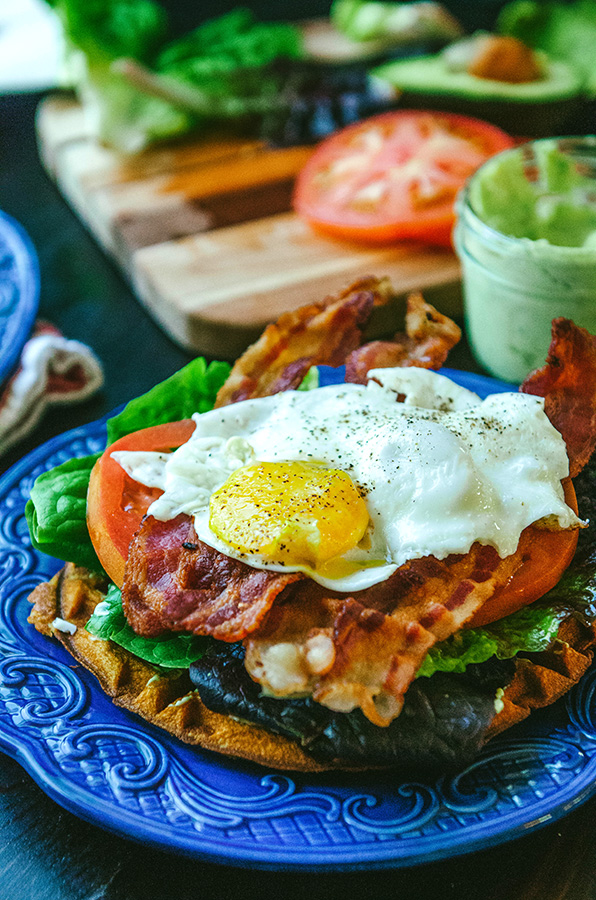 Ooooh. Yeahhhh. 'Sup, gurrrrl. Now, smash it all together with another one of those waffles.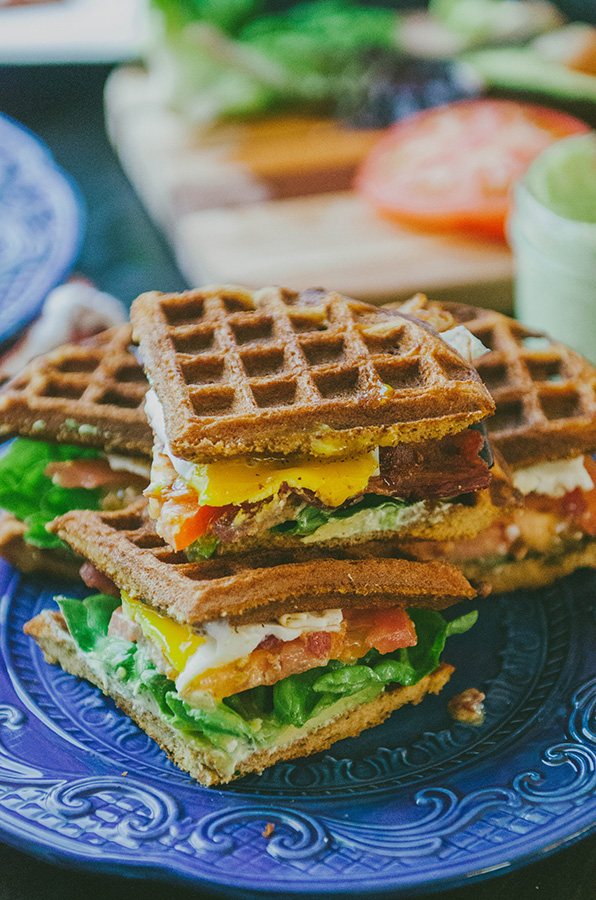 Cut it up. Marvel at your masterpiece. Be less annoyed about a broken oven. High five someone. If no one is around, find a mirror and high five yourself. You're worth it.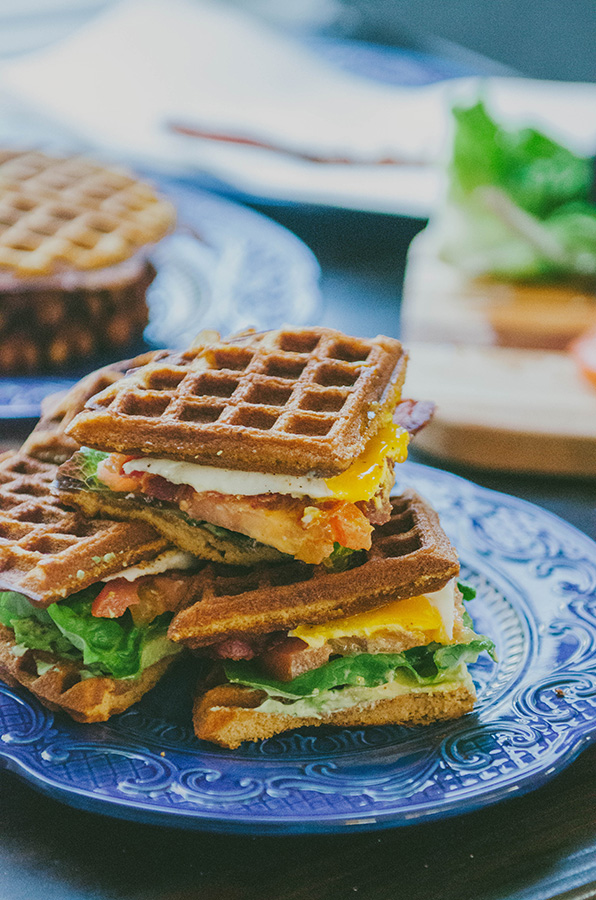 Boom! Chomp. BLAT. BLATE. BLT. BEST. #dropsthemic #mostlybecausehandsarecoveredineggyolk
Grain-Free Sweet Potato Waffle Breakfast B.L.A.T. With Garlic Basil Aioli
6-7 waffles + 1/2 cup aioli. Or, approximately three sandwiches.
adjust servings
Ingredients
Sweet Potato Waffles
Garlic Basil Aioli
For the sandwiches
1

lb crispy cooked bacon

1

head of butter lettuce, washed

1

beefsteak tomato, sliced

1-2

avocados, sliced

1

fried egg per sandwich (optional)
Instructions
Plug in your waffle iron and set it on the lowest or second to lowest setting. Allow it to get hot. While it is heating up, add all of the waffle ingredients to a high speed blender. Blend together until you get a smooth batter. It will be thick, but pourable.
Grease your hot waffle iron with a bit of coconut oil. In these situations I like to use a coconut oil spray as it's really easy to work with. Pour about 1/4 cup of batter into your waffle iron and press it down. The waffle is going to start steaming. Once it's no longer steaming it is getting close to being done. Open the iron and inspect it for crispiness. If you are like me, you will want them on the crispy side. Simply allow the waffle to cook until it's reached your desired doneness. Now, repeat until all of your batter is gone. This should yield 6-7 waffles.
To make your aioli, add the egg yolk, lemon juice, apple cider vinegar and mustard to a large measuring cup or bowl. Using your immersion blender, blend these ingredients together until they are well combined. Now, very slowly, while the immersion blender is still on, pour in the avocado oil in a controlled slow stream. This should begin to thicken your mixture. Continue to slowly pour the oil and blend the mixture. Once you've used up all of your oil and blended it in, it will resemble mayonnaise. Add a chopped up clove of garlic and chopped up basil leaves to the mayo. Blend with your immersion blender until it is combined well. This should yield a 1/2 cup of aioli.
Once your waffles are done and your aioli is made, it's time to craft your sandwich. Use an entire waffle as the base of your sandwich and liberally apply mayo. Add in your desired fillings. I opted for avocado, lettuce, tomato, crispy bacon and a fried egg. Place another whole waffle directly on top to close the sandwich. Cut into quarters and enjoy!
Recipe Notes
*If you're not into making your own mayonnaise, that's fine too. Just use a 1/2 cup of your favorite brand and fancy it up with some garlic and basil with an immersion blender.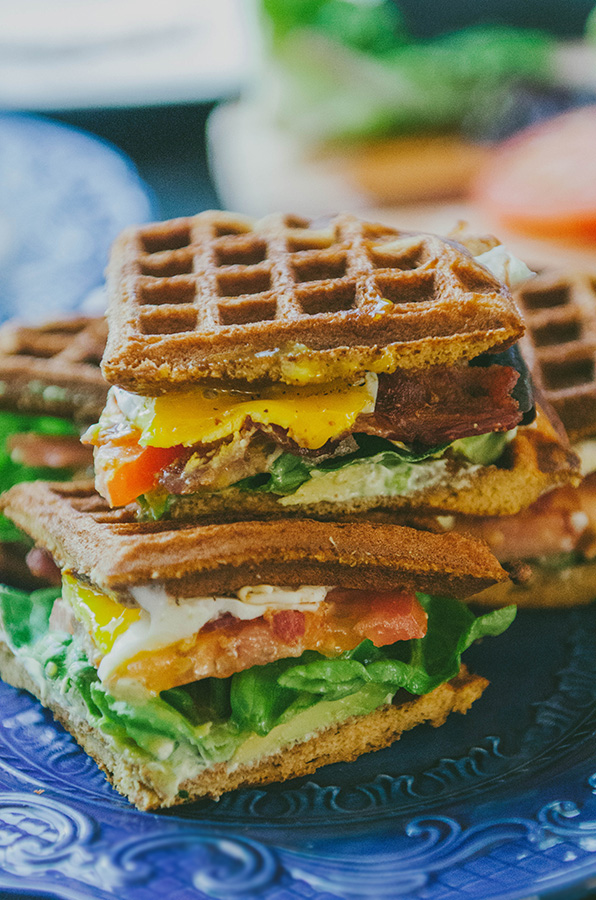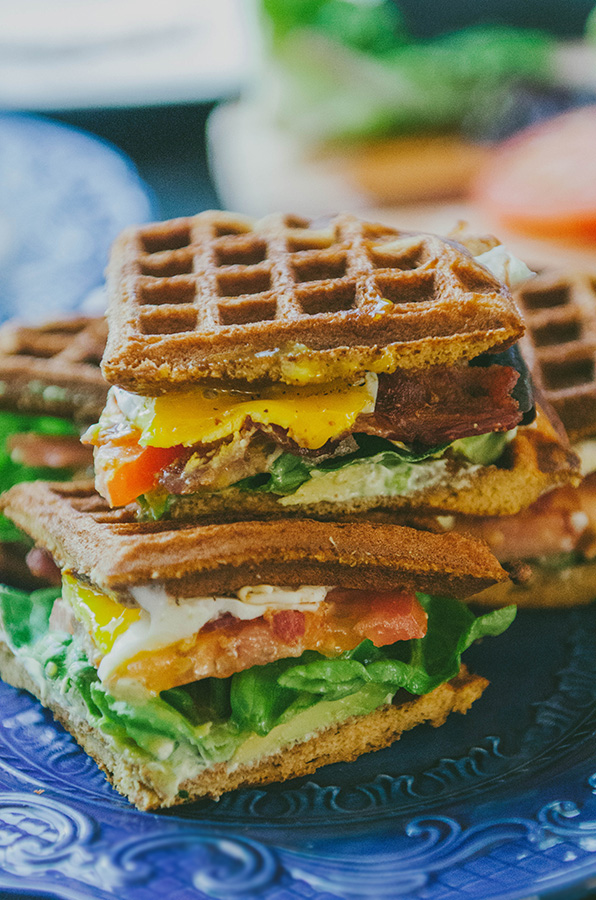 PAID ENDORSEMENT DISCLOSURE: In order for me to support my blogging activities, I may receive monetary compensation or other types of remuneration for my endorsement, recommendation, testimonial and/or link to any products or services from this blog.