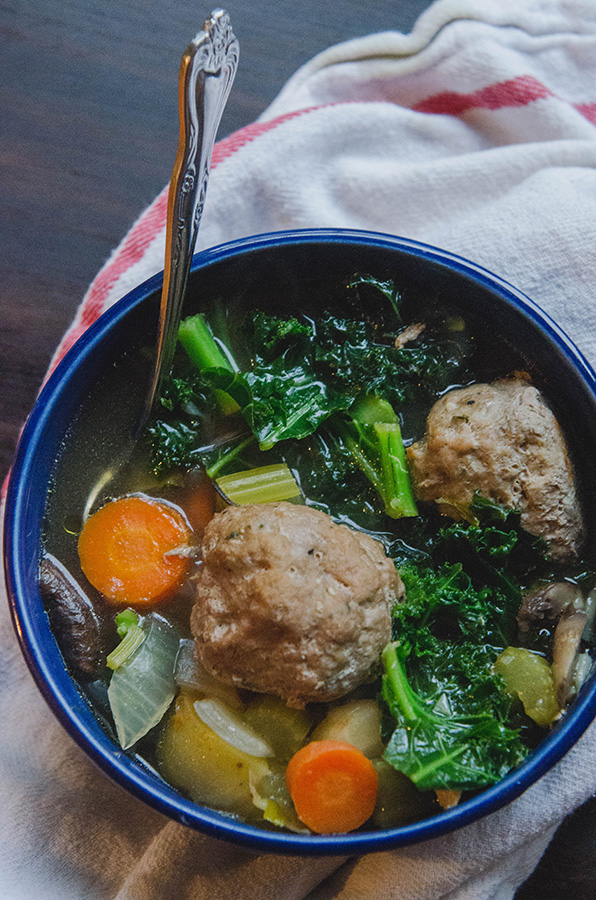 Happy New Year, Friends!
You know how the presence of a new year has everybody feverishly whipped up in a resolution making tizzy? I get it. It feels like a fresh slate that needs to be marked with promises to oneself about how many vegetables we plan on cramming into our bodies. A sense of pressure builds towards midnight, until you find yourself on the couch blurting out random things you plan to do in 2016 to your husband. He looks on at your quizzically, as you shout things like "I'M GONNA MOVE MORE!" and "UKULELE LESSONS!!!".
I felt the pressure this year more than others. After having a particularly challenging 2015, I needed to signify a shift into 2016. So, in totally predictable new years style, I decided to start the year with a Whole30. Cliche? Maybe. But, dude…I ate a lot of chocolate over the holidays and this reset is exactly what I needed both physically and mentally. Um, I'm only on day four–so I reserve the right to complain about my stupid resolution spawned decisions in later posts. K, thanks.  That being said, a lot of people have joined me this time around, and I started a lil' Whole30 support group on Facebook where we can be like "Um, I'm hungry for cake" or "What should I make for dinner?". If you wanna join us, please do. I like you. It's a supportive, judgement-free zone.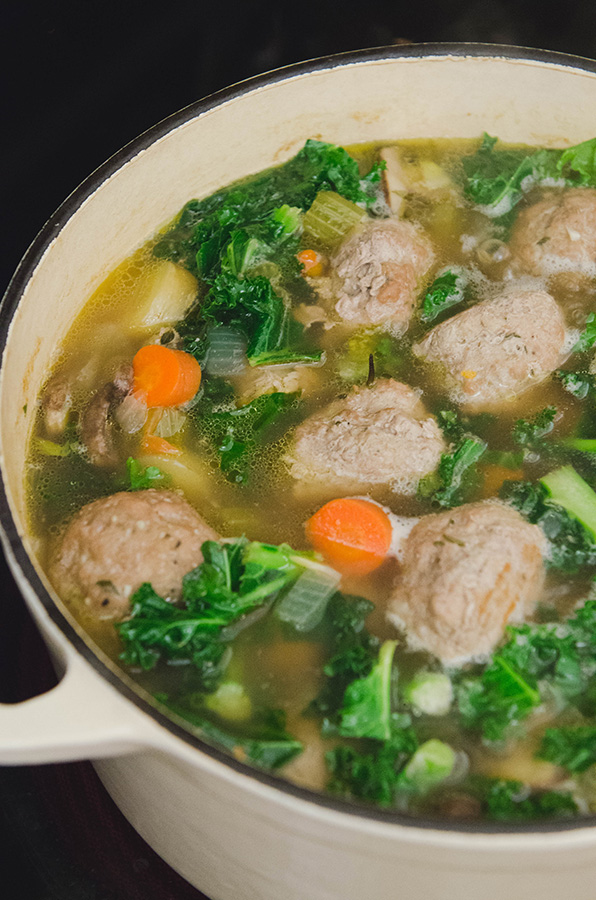 I spent a lot of time thinking about what the first post of the year should be like. Much like my intense need to blurt out random resolutions before the ball dropped, I felt an odd amount of pressure to have the first post of the year be epic. Maybe I'd finally write about my trip to Hawaii. Maybe I'd do a year in review with all the best recipes. Maybe I'd write a love letter to green juice. But, here we are, and not only am I straight putz-ing all over the place with my words, but I'm making you soup with big ol' meatballs in it. Sounds about right. Let's meatball our way into this year. Heh.
This is the kind of food that I'm craving right now. It's hearty and comforting and reminds me of something my grandmother would make. Not to mention, it's totally Whole30 approved–score! I decided to bake the meatballs purely out of convenience. It's easy and helps the soup come together quickly. I'm all about speed-souping. That's probably not even true. Is that a thing? Don't answer that. The mushrooms add and element of umami, and the lemon juice gives it a hint of acid. Is this where we start describing the food like wine and I write words like "mouthfeel" ? Please say no. We've gotta draw the line somewhere.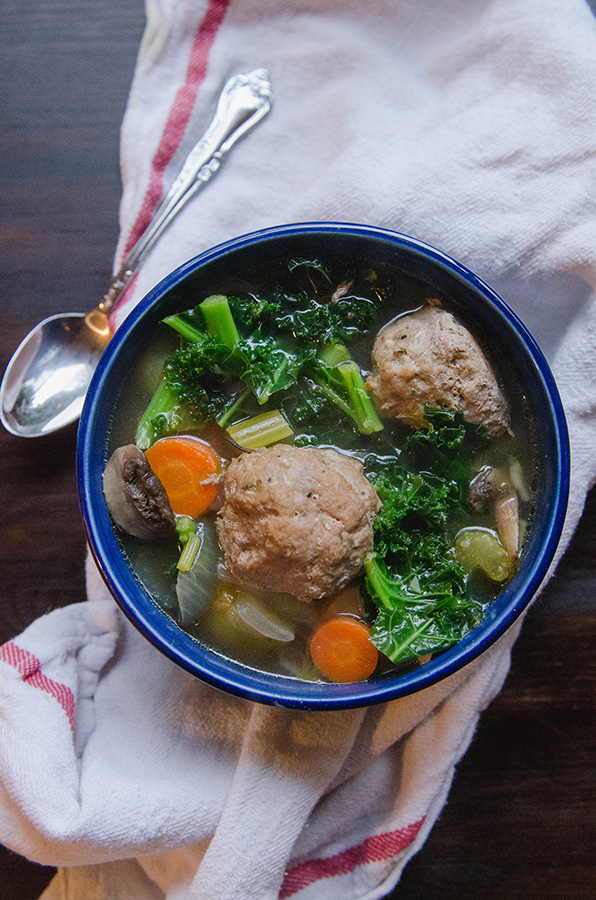 I hope you're having a wonderful start to the new year! I'm really excited to tackle this year with you guys and dish up all kinds of awesome eats along side some questionable prose. We got this.
Looking for more info on the Whole30? Read my painfully honest weekly recaps from the last time I took this journey.
Week One
Week Two
Week Three
Week Four
PS. Looking for some healthy recipes to start the new year with less "what do I make for dinner?" panic? Check out this e-book I'm a part of. Nearly 200 recipes from some of the best real food bloggers on the interwebs. xox
Turkey Meatball Soup With Kale + Mushrooms
Ingredients
Turkey Meatballs
2

lbs. organic ground turkey

1

Tbs. steak seasoning (I used this one)

1

Tbs. fresh rosemary, chopped

1

Tbs. fresh thyme, chopped
Soup
1

Tbs. ghee (or other cooking fat of your choice)

1

yellow onion, chopped

3

cloves of garlic, pressed

1

bunch of celery, chopped

5

medium carrots, chopped

4-5

medium yukon gold potatoes, chopped

1 8oz

clamshell of crimini mushrooms, sliced

salt and pepper, to taste

6

cups of chicken or turkey broth

1

bunch of kale, ribs removed and chopped

Juice from two large lemons
Instructions
Preheat the oven to 425 degrees. Line a baking sheet with parchment paper and set aside.
In a large mixing bowl, combine the two pounds of ground turkey with the steak seasoning, rosemary and thyme. Using clean hands, mix it together until the spices and herbs are evenly distributed throughout.
Form the ground meat into roughly fifteen or so meatballs and arrange them neatly on the parchment lined baking sheet. Bake in the oven for 25 minutes and then remove.
While the meatballs are baking, start the base of your soup by heating up the ghee in large heavy bottomed soup pot over medium heat. Saute the onions and garlic in the ghee until they are soft and fragrant.
Add in the celery, carrots, potatoes and mushrooms. Salt the mixture well, and add pepper to taste. Stir together and allow to cook down for a few minutes.
Add in the chicken stock to cover the vegetables. Using tongs, place your cooked meatballs into the pot of soup and nestle them in there until they are sitting covered by broth, or only peeking out slightly.
Allow the soup to come to a boil and then reduce the heat and allow the soup to simmer for at least thirty minutes.
Add in the chopped kale and lemon juice about five minutes or so before serving. The kale will cook quickly. Taste again to adjust seasoning as needed. I find that soups with potatoes tend to need a bit more salt.
Serve and enjoy!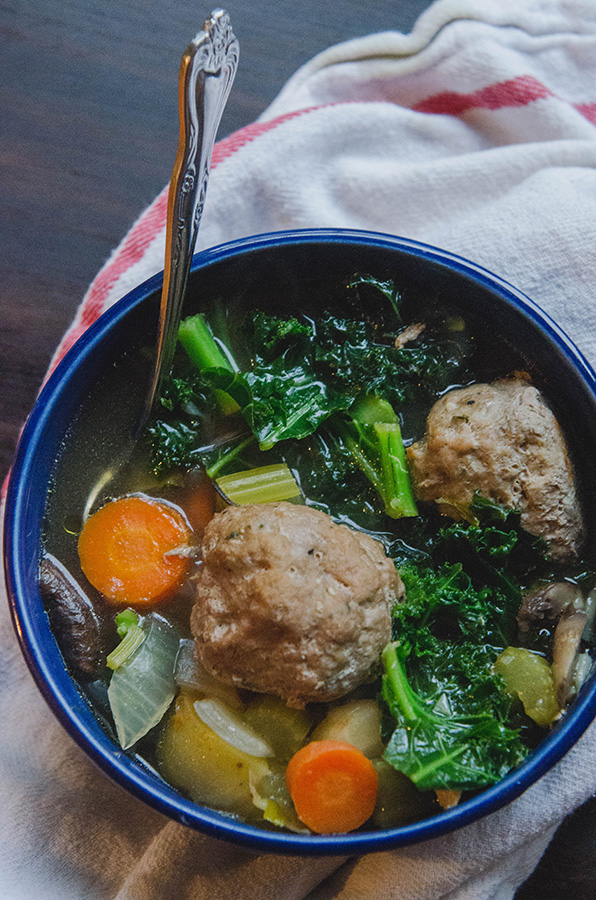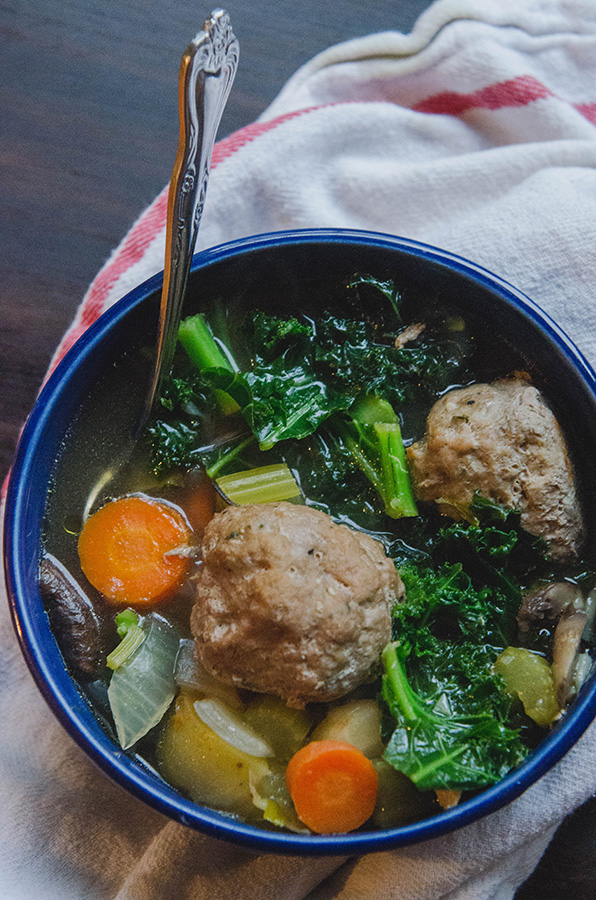 PAID ENDORSEMENT DISCLOSURE: In order for me to support my blogging activities, I may receive monetary compensation or other types of remuneration for my endorsement, recommendation, testimonial and/or link to any products or services from this blog.