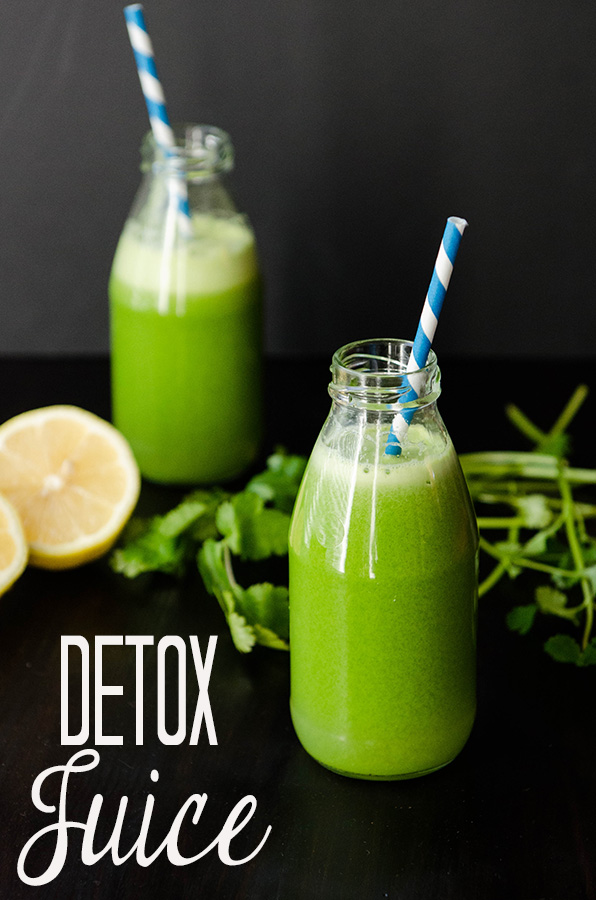 It's post-New Year's. My Christmas tree is gone (although I keep finding needles in weird places–how did that get in my bra?!), the ornaments are packed away, and the lights are down. But, I'm still experiencing a major holiday hangover. After holiday travel, the flu, a Lyme flare, and a couple of stress-inspired poor eating decisions (I'm looking at YOU entire gluten-free pizza with enough cheese to choke a horse), my body is BEGGING me to get back on track. So, I'm listening to my body's plea and responding with my favorite detoxing green juice, salad, soup, and lots of episodes of Friends on Netflix. It does a body good.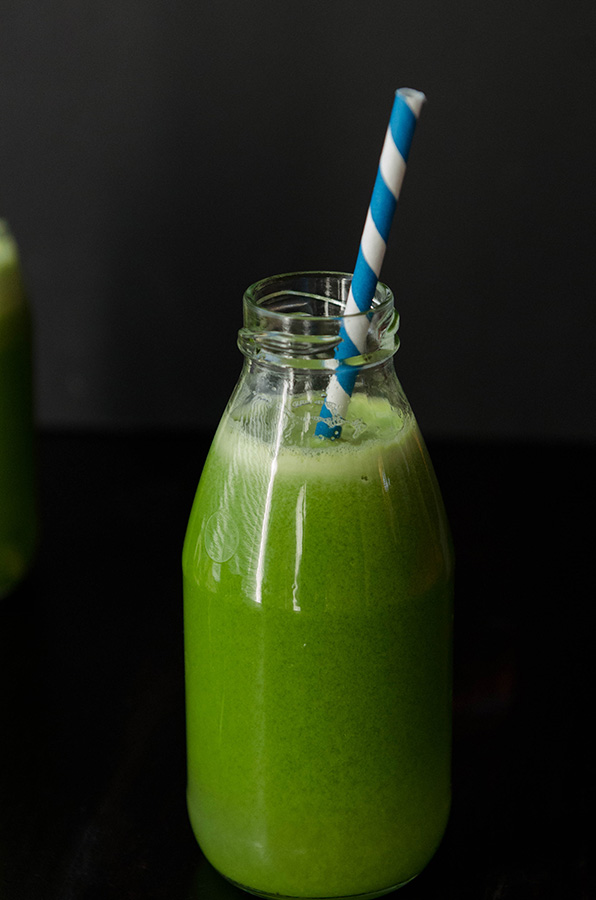 This is day three of drinking my detox juice in addition to watching my diet (i.e. NOT eating entire gluten-free-cheese-monster pizzas) and I'm starting to feel better. I woke up this morning with a little spring in my step and the desire to go on a little walk around the neighborhood. A couple of days ago you couldn't have paid me to get off the couch. I was deliriously tired and doubled over in pain. Not my favorite. It's really hard to feel like you're starting 2015 with a bang when you've been wearing the same sweatpants for (almost) the ENTIRE YEAR. It's no secret that this isn't a fashion blog (you're welcome). But, today I'm feeling pretty darn good. I'm not saying that this juice was the only thing that contributed to feeling better, but it sure as heck didn't hurt.
This juice is packed with zingy lemons, green veggies, a hefty dose of ginger and my favorite cleansing ingredient: CILANTRO! I know there are a lot of cilantro haters out there, and you can remove it from this recipe or simply sub in parsley–but, cilantro is known for it's ability to help in the detoxification process. It helps to bind toxins and gently carry them out of your system. I imagine all the cilantro particles floating around my gut to be like little flight attendants, directing all the naughty toxins as to where their nearest exit might be. It's all very civilized. But, if you need a more science-y picture of what is going on, I'll try to help you out…
Lemon— Hello, vitamin C! This little yellow powerhouse works hard to cleanse your body and boost your immune system. It works to keep your body alkaline, cleanses your liver and even has antibacterial agents which help to keep your digestion on point. Often when I'm feeling crummy you'll see me putting lemons in my water to assist in detoxification–it's one of the easiest and most effective detoxing methods I've found.
Ginger— Is your tummy upset? Fear not. Ginger to the rescue! It helps decrease inflammation, aids in digestion and can even act as a pain killer. I seriously love this little root. It's my go-to remedy for nausea and other digestive woes!
Cucumber & Celery — I love juicing these veggies due to their high water content. It produces a lot of bang for your juicing buck. But, they're not just in there for show. They actually have a lot of great health benefits. Cucumbers are extremely cooling to your system and help to aid in inflammation. Celery is also cooling to your body and is jam-packed with electrolytes, magnesium and other essential minerals. I rarely make a juice without these two ingredients.
Romaine Lettuce— This veggie is another one that I love to throw in the juicer since it produces a good amount of juice! However, it also packs a nutritional punch. It's relatively high in chlorophyll which helps with cell repair and regeneration. Essentially, the quicker you repair your cells, the quicker you will stop feeling crappy (science-y, I know). It's also a surprisingly good source of vitamins, A, C, K, B vitamins and folate.
Cilantro –Like I said in the above paragraph, this herb is not messing around! Not only is it anti-microbial, anti-inflamatory, and immune-boosting but it's also very effective at binding up heavy metals and toxins that are wreaking havoc on your system.
Green Apple –I like this variety of apple since it's relatively low in sugar and provides a hint of sweetness without a blood sugar spike. It also contains pectin which helps to keep your intestines in good health by flushing out toxins.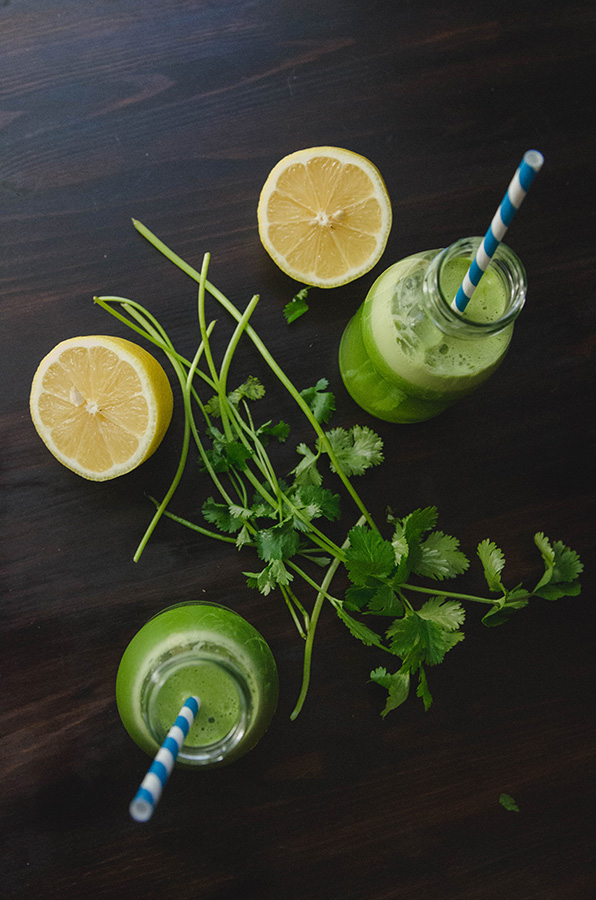 So, there's just a little bit of info about each veggie– I'm sure I'm only scratching the surface, but it makes sense as to why this tonic aids in detox so fabulously! I hope you have as much success with it as I have. Who knows, maybe after I guzzle up the rest of my juice (yes, I'm drinking some right now), I might find it in me to change these sweatpants. Look out, 2015! I'm coming for you.
Need some more JUICE-SPIRATION?! I've got you!
Super Green Apple Juice
The Minted Pear Green Juice
Pain Relieving Turmeric Juice
Kale, Apple & Ginger Juice
Rainbow Veggie Juice
Morning Mojito Green Juice
Pump Up The Beet Juice
Makes approximately 6 cups of juice
Ingredients
2

lemons, peeled

1

English cucumber, peeled (you can leave the peel on if it's organic)

1

large Granny Smith apple, chopped

1

bunch of celery

2

heads of romaine lettuce

1

large handful of cilantro (about 1/2 a bunch)

1-2

inches of ginger root, depending on how spicy you like it!
Instructions
Process all of the ingredients in your juicer according to the instructions. Drink immediately, or save for up to 48 hours in an airtight container.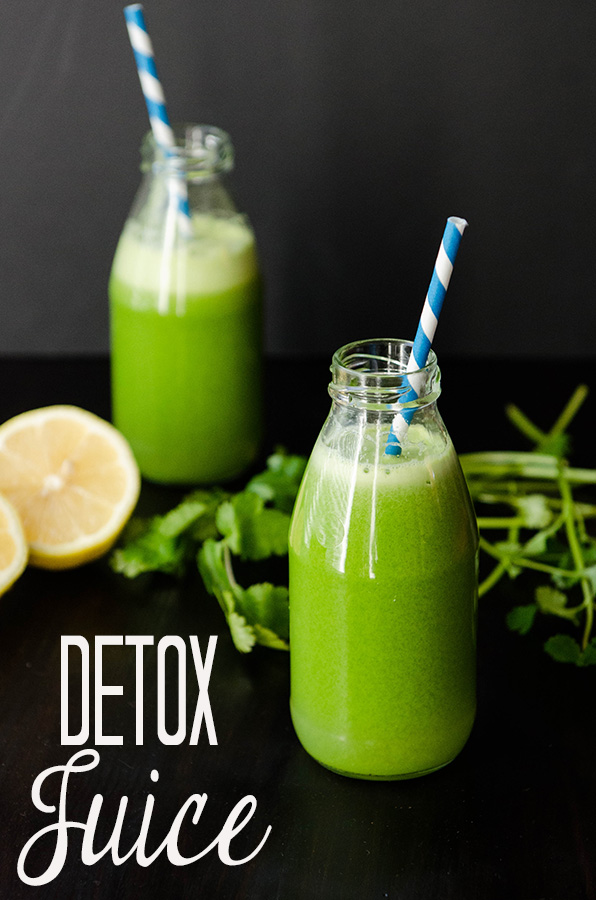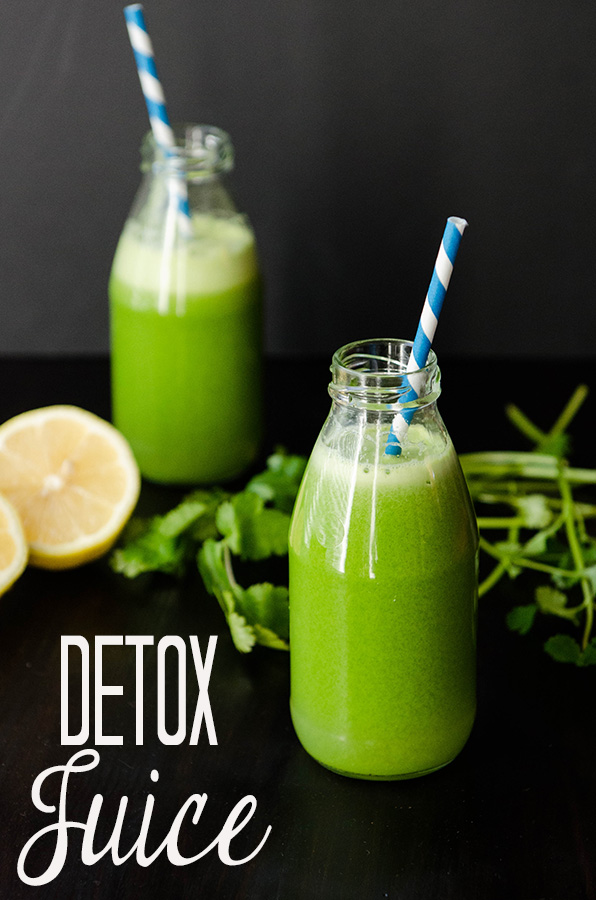 Note: I am not a medical professional. All opinions expressed here are based solely on my own experiences and research and are not intended to diagnose, advise or treat anyone. If you expect you are suffering from a medical condition, please seek the proper attention from a medical professional. Thank you!
PAID ENDORSEMENT DISCLOSURE: In order for me to support my blogging activities, I may receive monetary compensation or other types of remuneration for my endorsement, recommendation, testimonial and/or link to any products or services from this blog.