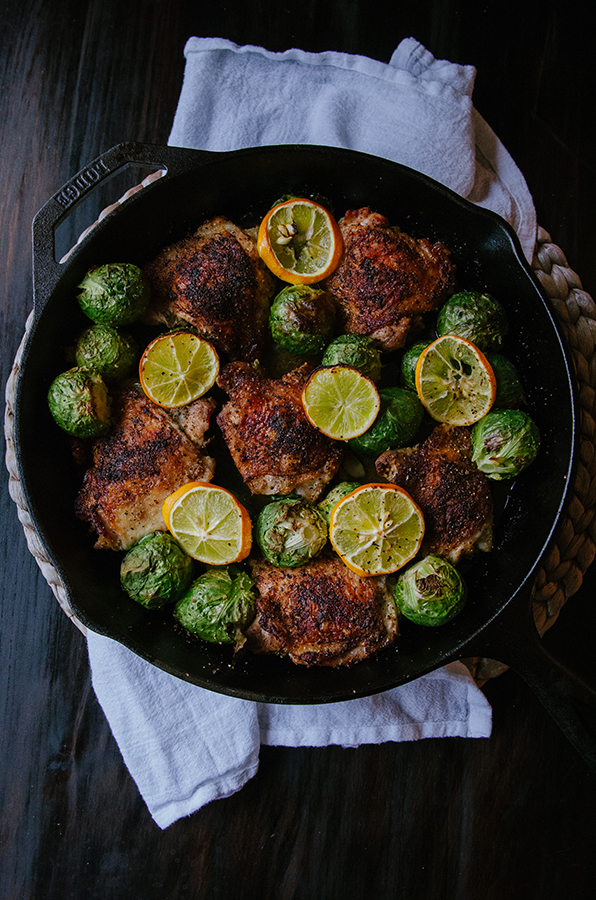 Guys, I'm kinda lazy.
Not really. I do stuff. All the time. I'm busy. I'm living my life and trying to keep up with laundry and take the dog to the park, and shove pills down my asthmatic cat's gullet (honestly, my husband has been doing this–he is a saint, because she's terrifying). I'm trying to run multiple businesses, continue to heal from multiple illnesses, and all while trying to still be nice to my husband when it's late and I'm starving and no one has cooked dinner, and we basically just want to eat ice cream and pass out on the couch to Bobs Burgers.  Basically, I am you.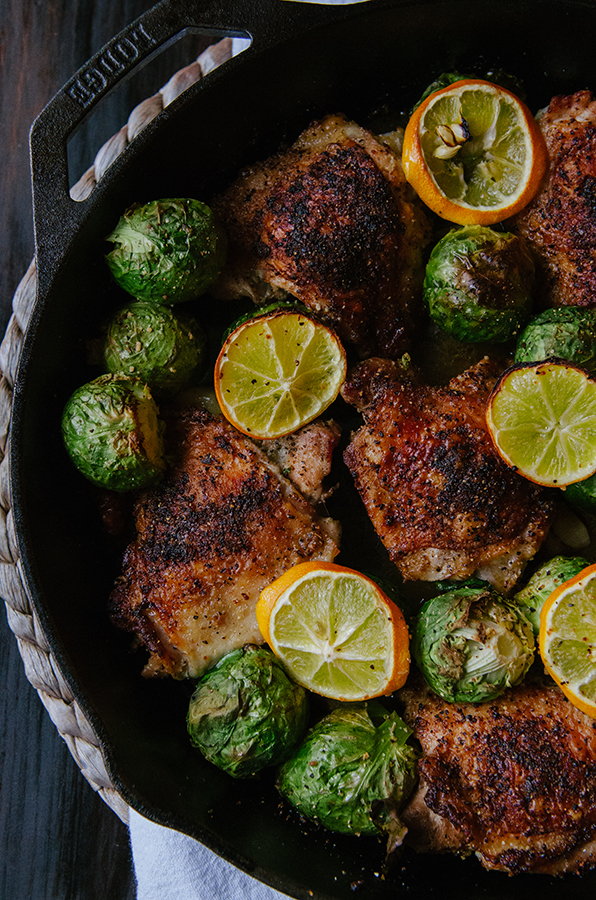 Don't let yourself get so hungry, guys. Your significant other has had a long day too–yeah, maybe he was scratched in the chest by your asthmatic cat this morning because she didn't like it when he had to literally shove his large man sized finger down a hallway of nightmarish cat teeth. You should be nice to that person. You should be nice to yourself. You should make something that only dirties ONE PAN. Something that makes you look fancy without you actually being fancy. Something that says "I love you, but not enough to dirty more than one dish, and that's okay, because I love you, right? Are we okay? Ok. Good."
I spend a lot of time in the kitchen. I make a lot of food at inappropriate times of the day. For example, I made this chicken skillet in the morning–before breakfast. I will bake a pie that has to be photographed at two in the afternoon when I am alone…with a fork in my hand (yeah, you know the end to that story). Blogging is weird, guys.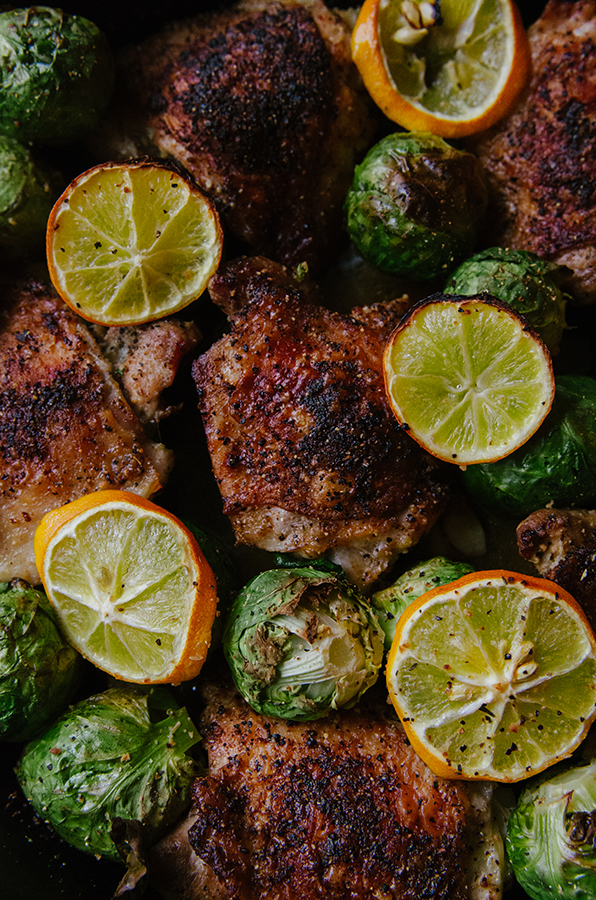 Yet, even though I develop recipes for a living, there are many days when I can't even deal. I get tired, I get cranky. My fridge is filled only with kimchi, half a bag of salami, and some almond milk that claims to have expired a week ago–and all I want in that moment, is for the sky to part and for some beautiful angel to come down and deliver me a bucket of chicken or ANY kind of food that's easy and that I don't have to cook or dirty a MILLION dishes for. Yes, just bring me food in a compostable bucket. That will work, Angelface. See? This is where the laziness comes in. It's an existential kind of lazy. A whimsical lazy that involves delusions of heaven-sent bucket-food. Gosh, why do you hang out with me again?
So, let's talk about easy things. Maybe not heaven-sent-bucket-chicken-easy, but it's up there. This dish has minimal ingredients, uses one pan, is spiced with one spice and then you just throw actual WHOLE brussels sprouts in, because chopping when you're already wishing for celestial buckets of food to drop from above is NOT OKAY–it's late. Plus, it sounds fancy. "Oh, wow…I've never seen WHOLE ROASTED BRUSSELS SPROUTS BEFORE?!?!" That's an impression of your dinner guest. Say it with really wide eyes, and a hand gracing your chest. Yeah, that dinner guest is impressed. You are a modern day June Cleaver. Congratulations. You rule.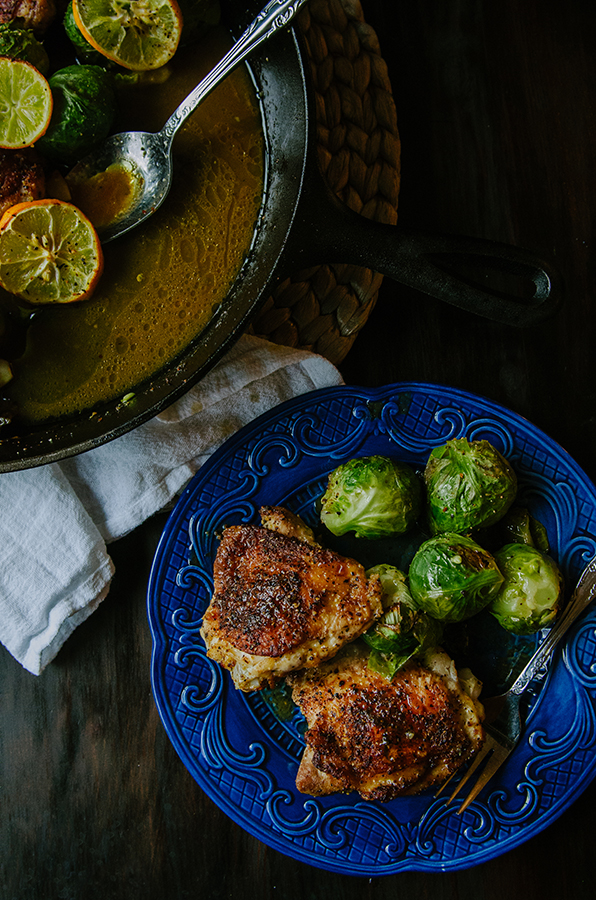 Now, serve it up before you're hangry. Dribble some of those pan juices over the top. Squeeze a little lemon over everrrythang, and dig in. It's crispy and savory and totally doable. Sigh. I think everything is going to be okay now.
If you're like me, and you need more than one easy skillet chicken recipe, here are my faves from the archives (This isn't our first chicken rodeo–wait, are those actually a thing? Who rides the chickens? Is it lizards wearing chaps? I wanna go to that.)–heck, let's just link up a bunch of ONE SKILLET MEALS:
Crispy Chicken with Artichokes, Beets, Lemon + Olives
One-Skillet Pork Chops with Apple,Fennel and Kale
One-Pan Crispy Chicken Legs + Brussels Sprouts
Crispy Chicken Thighs with Orange + Cranberry Coconut Greens
Rosemary Meatballs with Dijon Collard Greens + Apricots
May your glass be full, and your dinner be easy. xo
One-Skillet Crispy Lemon Pepper Chicken Thighs and Whole Roasted Brussels Sprouts
3
adjust servings
Ingredients
2

Tbsp. grassfed butter

6

bone-in skin-on chicken thighs

4

cloves of garlic, peeled and left whole

3/4

cup bone broth

1/2

lb brussels sprouts (or as many you can fit in the pan), bottoms trimmed, left whole

1

lemon, sliced into rounds

1

lemon, juiced
Instructions
Preheat the oven to 425 degrees.
Rinse the chicken thighs and pat them dry. Season each side of the thighs liberally with salt and lemon pepper seasoning. Place the seasoned thighs on a plate and set aside.
Heat up a cast iron skillet over medium-high heat on the stove-top. Melt butter in the heating pan, and allow it to coat the entire bottom of the pan.
Once the butter is hot (it should sizzle if you flick a bit of cold water into it), use kitchen tongs to arrange each of the thighs in the pan skin side down. Do not fuss with the chicken, simply allow it to get crispy. After about five minutes, check to see if the skin is crispy--if it is, flip the thighs over, if not, allow it to cook until desired level of crispiness checking every two minutes for your desired level.
Flip over the thighs using your kitchen tongs once the skin side is crispy enough for your liking. Add in peeled whole garlic, bone broth and whole brussels sprouts. Allow this to simmer for a few minutes over medium heat.
Arrange your sliced lemon over the top of the chicken and brussels sprouts. Remove the skillet from the stove top and place it in the oven. Allow to cook for 30 minutes, or until the chicken is cooked through and the juices run clear.
Once cooked, remove from the oven. Squeeze the juice of an entire lemon over the top of the dish. Serve up and enjoy!
Recipe Notes
If you can't tolerate dairy, you can sub in ghee in the place of butter--or, simply replace with your favorite cooking fat. Coconut, avocado, or olive oil are all good choices.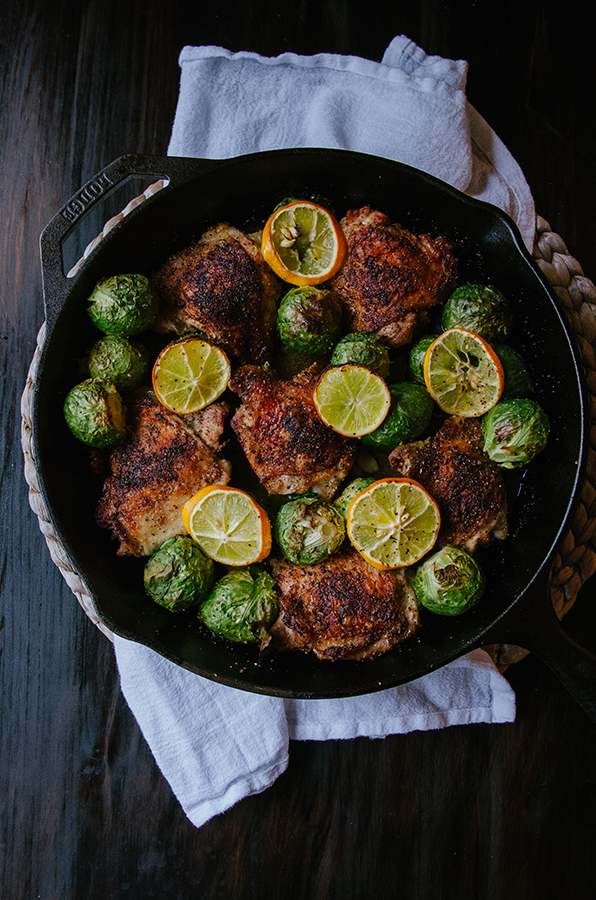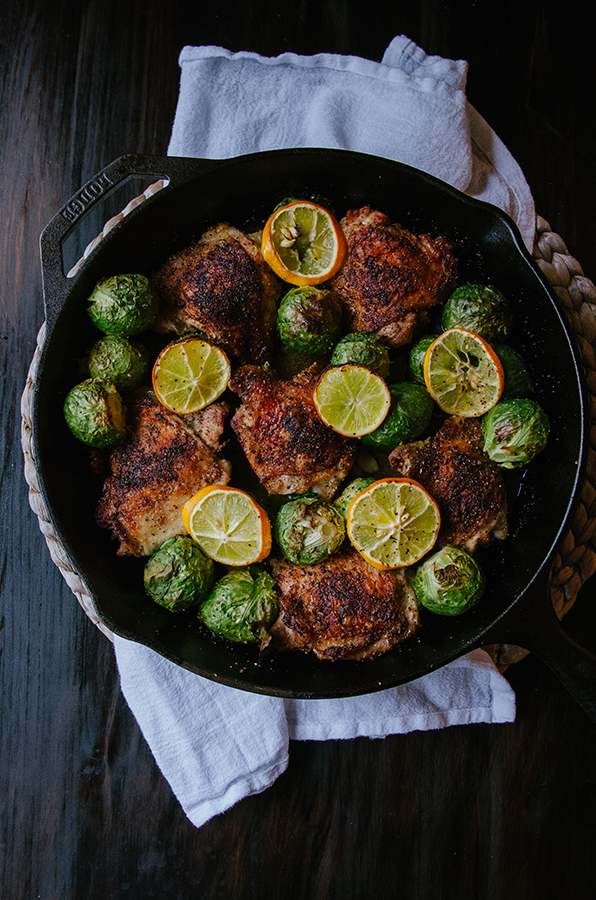 PAID ENDORSEMENT DISCLOSURE: In order for me to support my blogging activities, I may receive monetary compensation or other types of remuneration for my endorsement, recommendation, testimonial and/or link to any products or services from this blog.