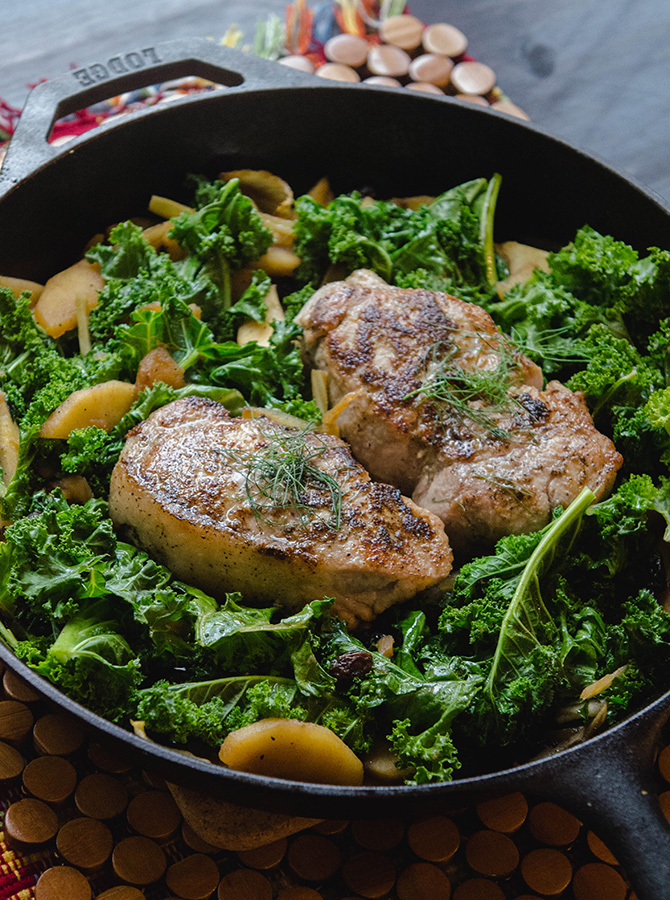 If I told you that you could make this entire meal and only dirty a single skillet, would you try to make-out with my face? Because, that's totally going on. It's another one-skillet wonder. So much better than a one hit wonder, right? Or… a one trick pony. Although, I sincerely wonder what the original One Trick Pony's trick was. I imagine a pony wearing a tutu and singing songs from Les Mis while juggling. But, it probably wasn't that cool since technically my imagination already puts that pony at THREE tricks. Don't be a three trick pony isn't a saying.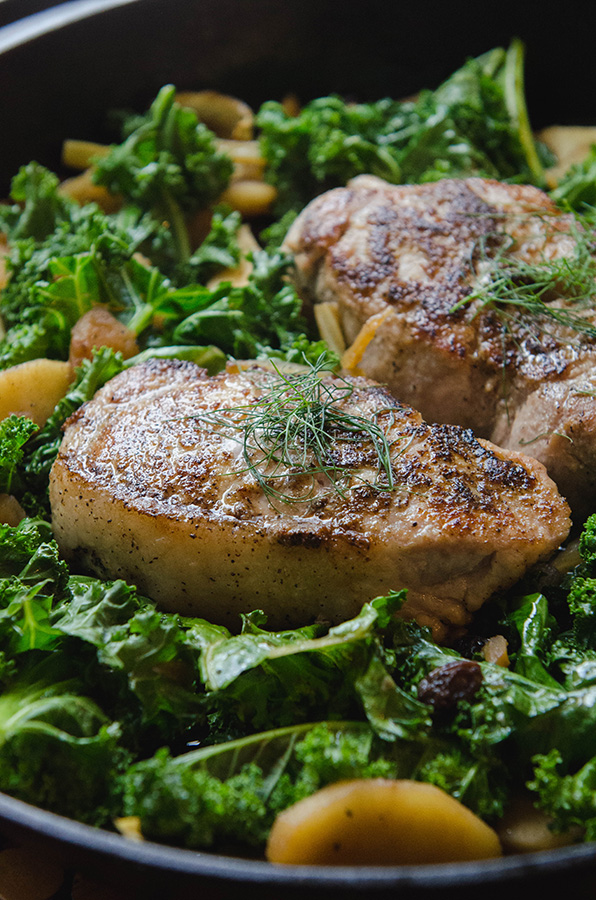 So, now that we've gotten that out of the way– how about some pork chops? These chops are sitting pretty on a bed of spiced-up warm apples, fennel, and wilt-y kale. I even got a little crazy at the last minute and threw in a handful of raisins. Don't fight it. You'll like it. It's the cherry on top of this five-trick pony dish. Does that even make sense? Like… I put five things in a skillet, so it's that many tricks? This post is tanking. The original One Trick Pony is most likely rolling over in his tiny pony grave. Ooof.
One-skillet. One hope. One dream. One love. One pork dinner. No tricks. All the ponies. Because, ponies.
No matter how awful the scope of my writing is within the confines of this post, know that this pork dish is approximately seven billion times better than my prose. It's just that it's a Tuesday that feels like a Monday and I'm still in a Sunday sweatpants wearing, couch-napping, state of mind. No one looks surprised. I should probably quit while I am behind. That's not the phrase I'm looking for, but it is decidedly accurate.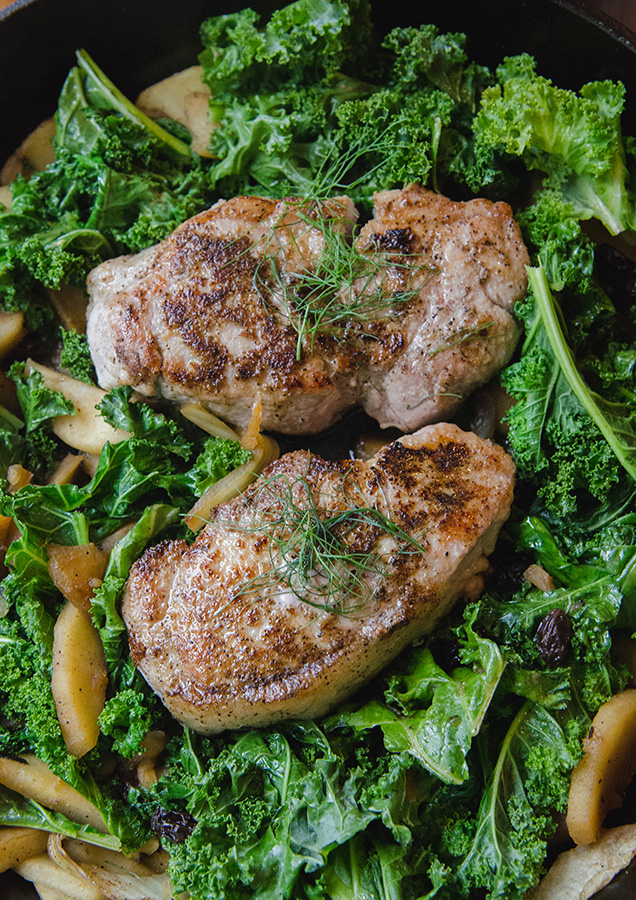 Need some more ONE-SKILLET/ ONE-POT dinner inspiration? Check these recipes out:
Crispy Chicken Thighs With Orange & Cranberry Coconut Greens
One-Pan Crispy Chicken Legs & Brussels Sprouts
Rosemary Meatballs With Dijon Collard Greens & Apricots
Curried Shepherd's Pie With Sweet Potato Mash
Whole-Roasted Butter, Lemon & Rosemary Chicken With Garlic Root Vegetables
Fiesta Chicken Soup
Mom's Super Healing Chicken Stew
One-Pan Skillet Pork Chops With Apples, Fennel and Kale
Ingredients
2-4

pork chops (any cut will do, I used bone out for this recipe, but bone-in are delish!)

salt, pepper, granulated garlic

1

tbs coconut oil, for the skillet

1

tsp cinnamon

4

apples, cored and chopped

1/2

yellow onion

1/2

large fennel bulb, sliced

1 1/4

cups chicken broth

Large bunch of curly leaf kale, de-stemmed and chopped

1/4

cup of raisins
Instructions
Preheat your oven to 400 degrees.
Rinse your pork chops and pat them dry with a paper towel. Set them on a plate and season both sides liberally with salt, pepper and granulated garlic.
Heat up the coconut oil in a large cast iron skillet. Once the oil is hot, place the pork chops into the pan. Do not move the chops around, you want them to develop a nice sear on the outside of your chops. This will take a couple of minutes on each side. Once one side has a good sear, use a pair of tongs to flip your chops over and sear the other side. You should have a nice golden brown crust that's developed on each of your chops.
Once the chops have been flipped to the second side to sear, add in the cinnamon, apples, fennel and onion. Stir around to combine. You want the onions and fennel to begin to get translucent and for the apples to soften slightly.
Once your chops have been seared on both sides, and the apples, onion and fennel have cooked down a bit, add in the chicken broth. Allow to simmer for two minutes.
Place the cast iron skillet in the oven and allow it to cook for 7-10 minutes or until the internal temperature reaches 140-145 degrees in the thickest part of the chop.
Remove the cast iron skillet from the oven. Place your pork chops on a clean plate, leaving nothing but the apples, fennel, onion and the remainder of the broth in pan.
Add your chopped kale to the broth and apple mixture and saute until it is tender and slightly wilted. At this point add in your raisins. Allow them to warm through and slightly plump up in the broth. Once your kale is cooked add your pork chops back to the pan. Garnish with some chopped fennel fronds and serve!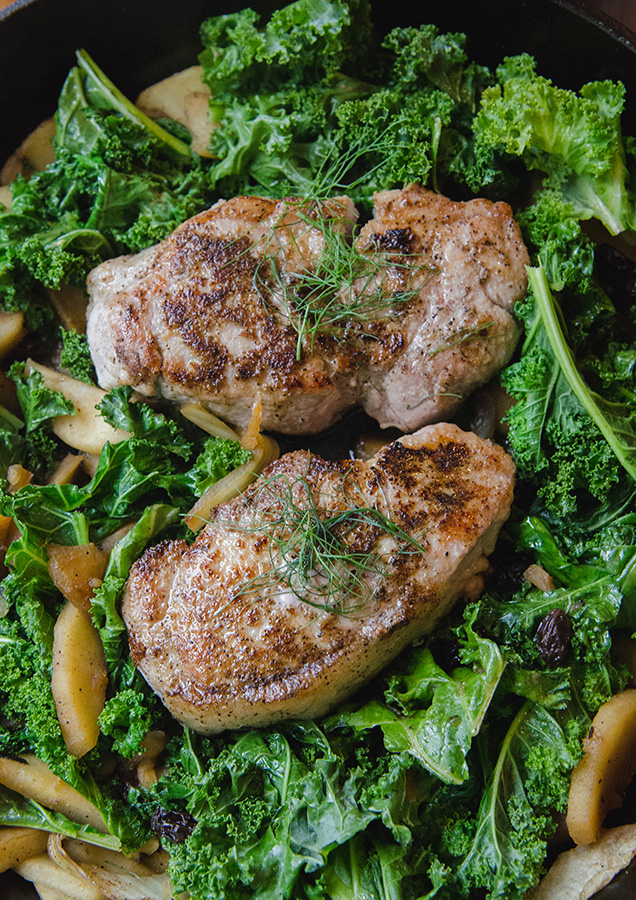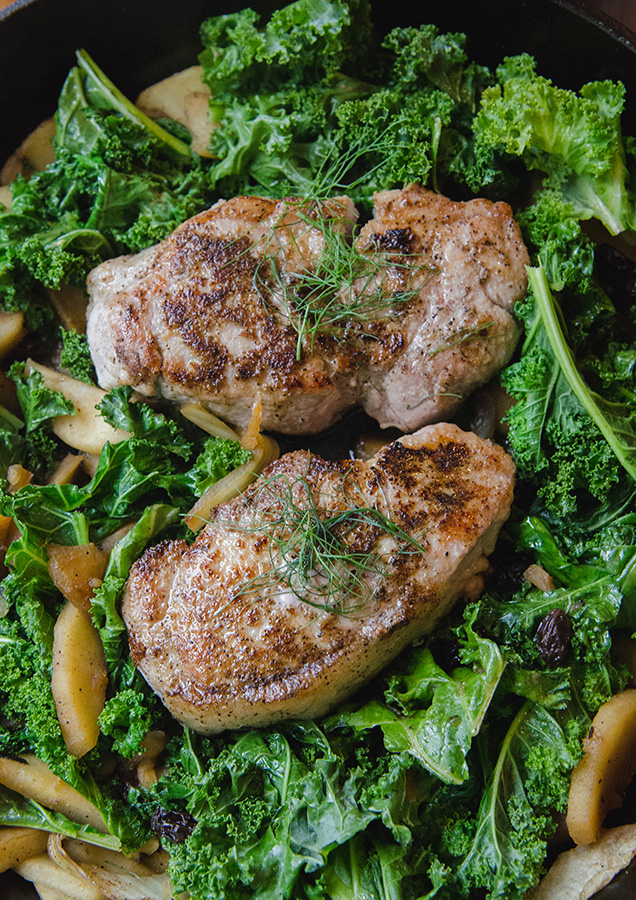 PAID ENDORSEMENT DISCLOSURE: In order for me to support my blogging activities, I may receive monetary compensation or other types of remuneration for my endorsement, recommendation, testimonial and/or link to any products or services from this blog.