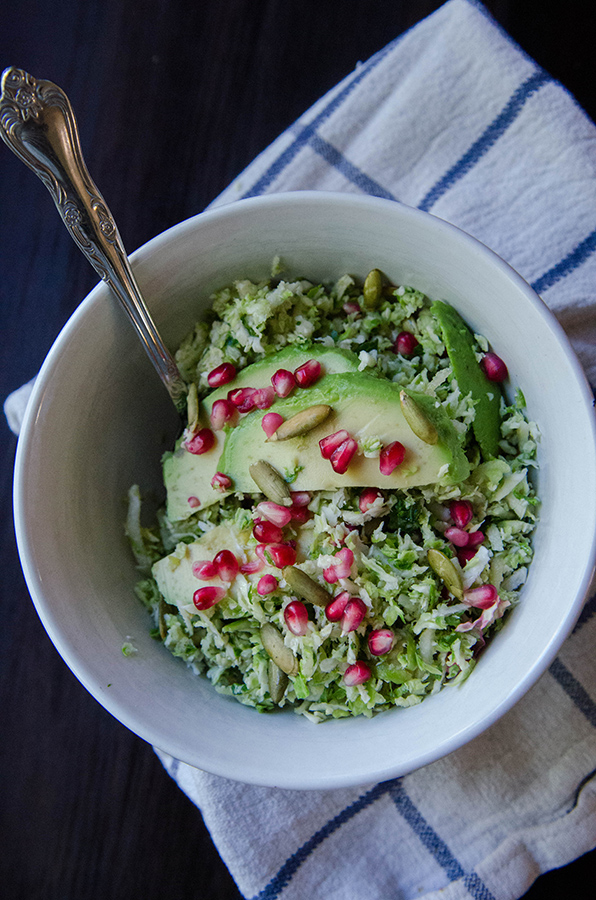 Ever have those moments in life where you realize your vegetable consumption is WAY too scanty?
I usually feel this way after a holiday full of cookies, a birthday full of cake, or a vacation where I've favored margaritas over food groups. Or, heck… sometimes there's no explanation at all. A girl just needs a serious veggie-vention (like, intervention…but, with veggies. It's a stretch. I know) from time to time.  It's in these moments that I find myself with insatiable veggie cravings. Like, standing at the kitchen counter shoveling handfuls of plain spring mix into my mouth. Or, shotgunning carrots like a frat boy would do beers. So, I figure I might as well stop grazing like an uncontrollable fridge-savvy rabbit and get down with a giant salad instead. 
Last year I fell in love. It was an intense romance between me and a former enemy. I got hot and heavy with the Brussels sprout. It escalated quickly. I roasted them with crispy chicken legs. I made this bonkers Bacon & Cranberry Roasted Brussels Sprouts  dish that lends itself perfectly to a holiday table. There was also this moment when Brussels sprouts met up with my good friend Sriracha! But, one of my absolute favorite ways to enjoy these little veggies is totally raw! If you shred them up, you've got yourself a hearty green that's perfect for a fall or winter salad. Unlike lettuce, this kind of salad stores really well. In fact, it's almost better the second day. I feel like that's not something you can often say about salad. Lord knows I've suffered through some very wilt-y spinach numbers for the sake of leftovers. No good.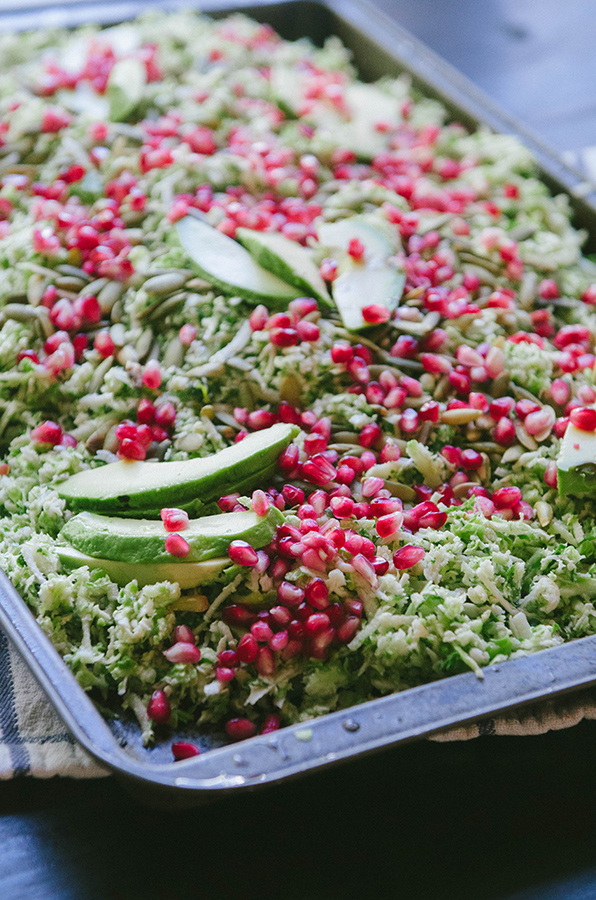 Can I take a minute to give a shout out to food processors? I mean, really. How easy is it to shove veggies down a little shoot. Then, voila! SALAD. After slicing all of those sprouts off of the stalk I was really happy to see my food processor with the shredding disc in tow. Apples and sprouts down the shoot. Baby, we got a slaw going.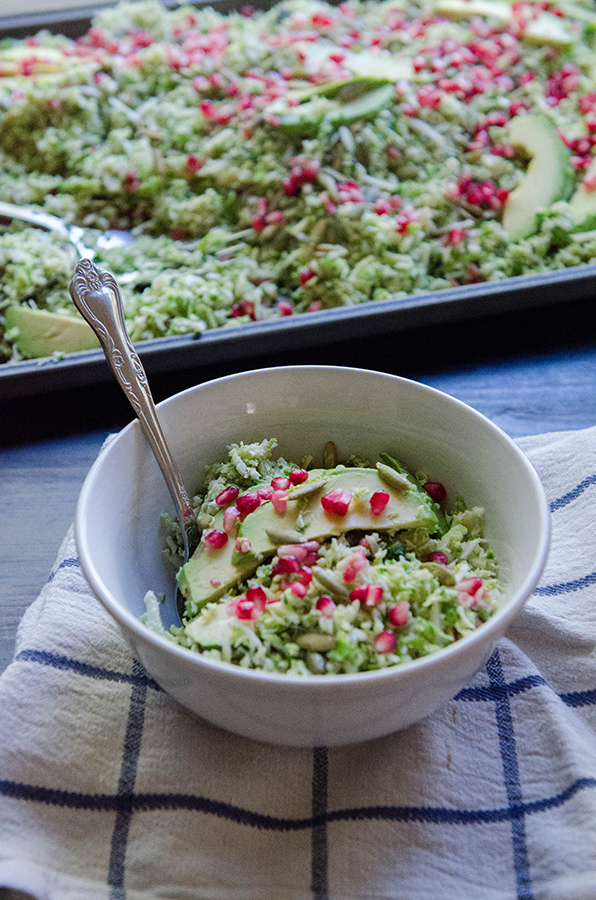 This is so much better than a fist to mouth lettuce binge. Tart apples mix with crunchy sprouts, creamy avocados, bright pomegranate seeds and some pepitas for extra crunch! The whole thing is dressed with a honey and Dijon vinaigrette. Not too shabby, eh?  I don't want to be presumptuous, but I really think this big ol' pile of veggies could count as a fabulous Thanksgiving side dish. It will help balance out the four pieces of pie you plan to eat, or the tub of gravy that you intend to inhale with a straw. It's all about balance, right? Riiiiight.
Shredded Brussels Sprout & Green Apple Salad With Avocado & Pomegranate Seeds
Ingredients
Salad
1

stalk of Brussels Sprouts, cut off the stalk

3

green apples, cored

1

pomegranate, seeded

2

avocados, pitted and sliced

1/2

cup pepitas
Dressing
Instructions
Using your food processor fitted with the shredding blade attachment, process the Brussels sprouts and green apples into a slaw. Add these to a bowl and set aside.
Combine all of the ingredients for your dressing and whisk together well. Dress the shredded sprouts and apples and toss well until it's mixed in and coated evenly.
Add the pomegranate seeds, avocado and pepitas. Dish up and serve!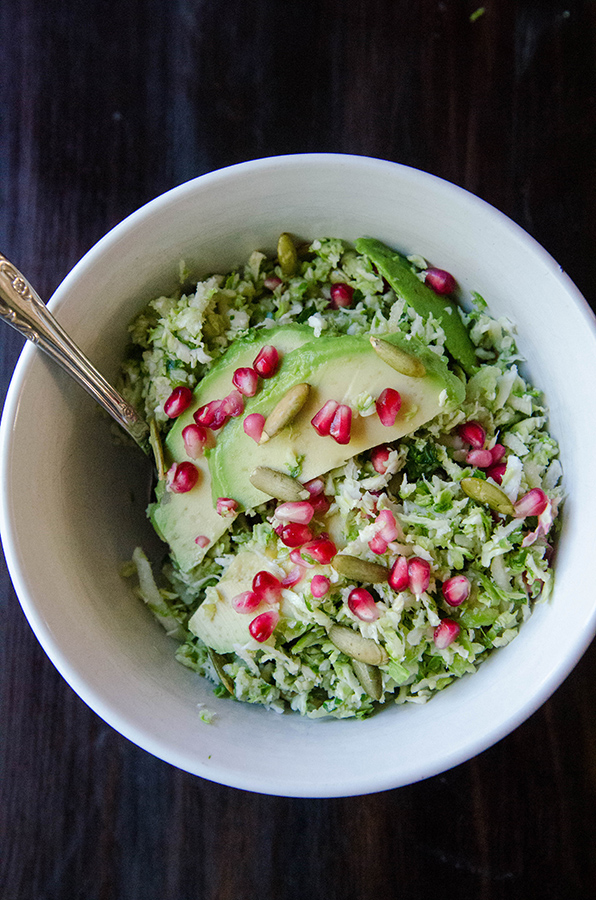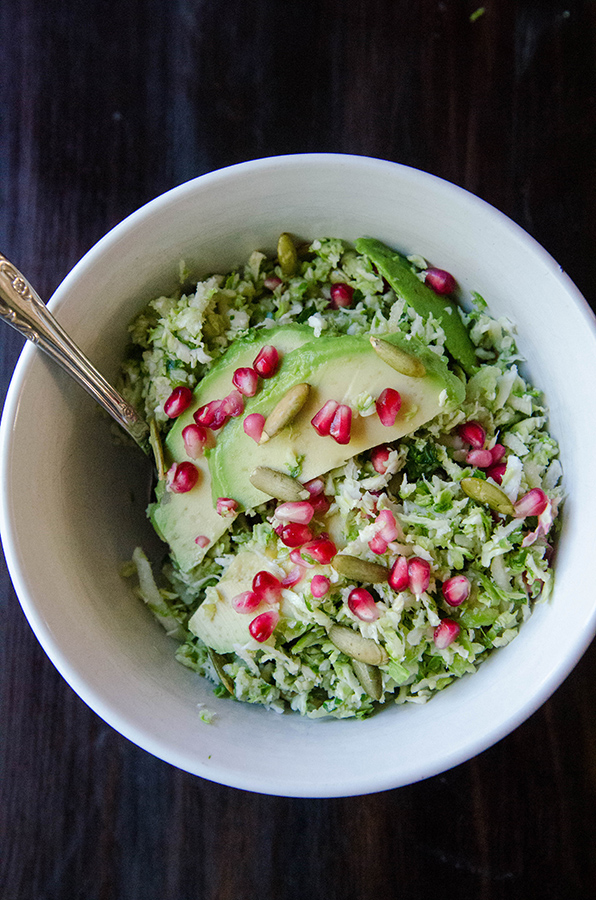 PAID ENDORSEMENT DISCLOSURE: In order for me to support my blogging activities, I may receive monetary compensation or other types of remuneration for my endorsement, recommendation, testimonial and/or link to any products or services from this blog.