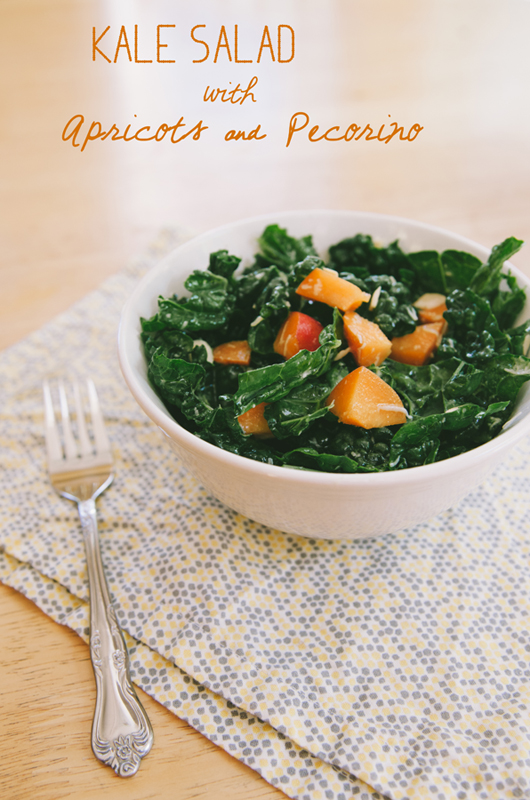 I'm back. I missed you (like WOAH). And yes, Monday is about to get real delicious.
Kale. We like it around here. I've been known to put it in a thing or two  twenty. We have juiced it. We have topped our Shepherds Pie with it. We most definitely sauteed it up in a quiche. Oh, and let's not forget the time we put it in some dip! We've also been down the kale salad path a time or two before. Should we talk about this Kale Caesar? How about this salad with Creamy Almond Dressing?
Clearly, I can't help myself. I see those leafy greens and my mind starts turning. I crave this stuff.
I suppose I could make much worse decisions…
Do you sense a weekend montage coming up? Of course you do. It's like we've met before.
I spent my Saturday drinking margaritas with new friends followed by a bottle of red wine with dessert (Ooomph–who do I think I am?). It was one of those decisions you could see unfolding poorly, yet are just too wrapped up in merriment and the happy buzzing of new friendship, that you find your mouth moving and forming the words "SURE, I would LOVE another glass of red!" Good times. The next morning was rough. I found myself at Whole Foods cruising the aisles looking for something, anything, with the words "probiotics" and "ginger" in them. I also found myself cruising the aisles of Trader Joes only to find a box of gluten-free Oreos. Let's just say, decisions were made. I paid a price. The end. Lessons were learned and unlearned over a sleeve of cookies. No one is perfect.
Should I even start on my dear friend's birthday party that boasted a plate of gluten-free brownie bites? No, I won't. But, that happened.
So, let's make some good decisions. I could use some solid decision making on this fine and sunny Monday.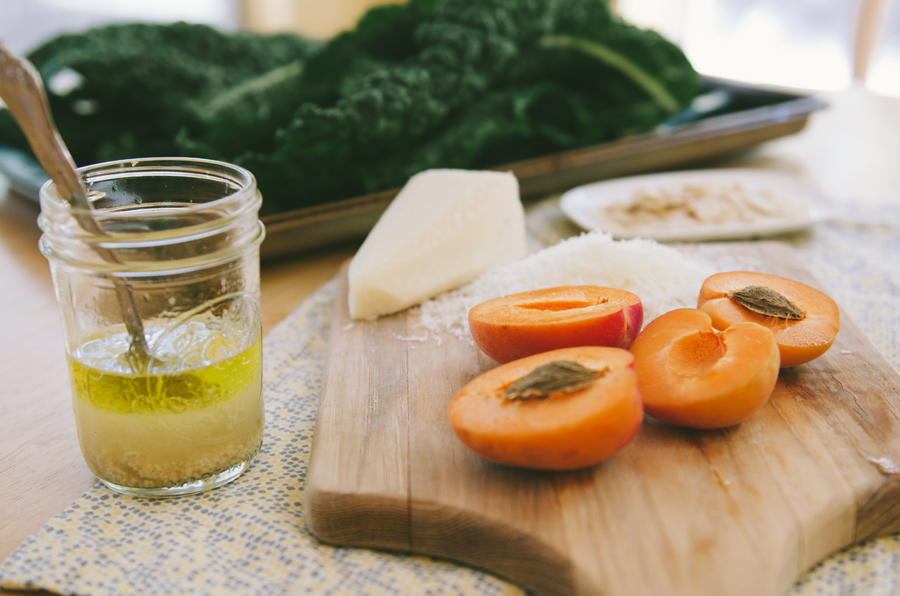 Apricots are starting to show up in our markets! Isn't this season the best? The weather is starting to really warm up and the fruit is plentiful. When I bought my first basket of cherries this year I just about died. So excited. The same goes for these apricots. I really almost died from excitement (over-dramatic?).  This salad is so easy to make! We grate a little bit of cheese, prepare a simple citrus-based dressing and toast up some almonds.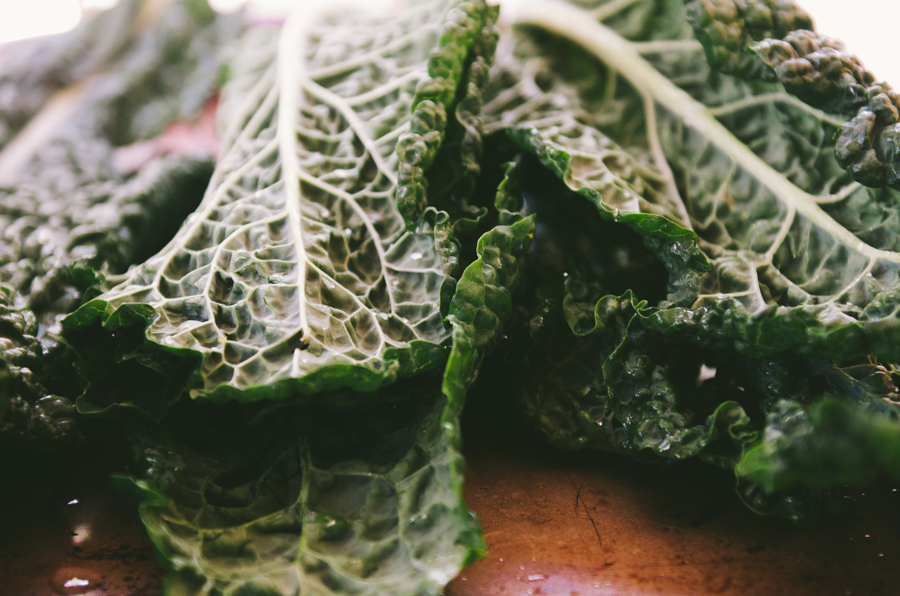 Of course, there is kale too. We're going to wash it, de-rib it, and chop or rip it up until your heart's content.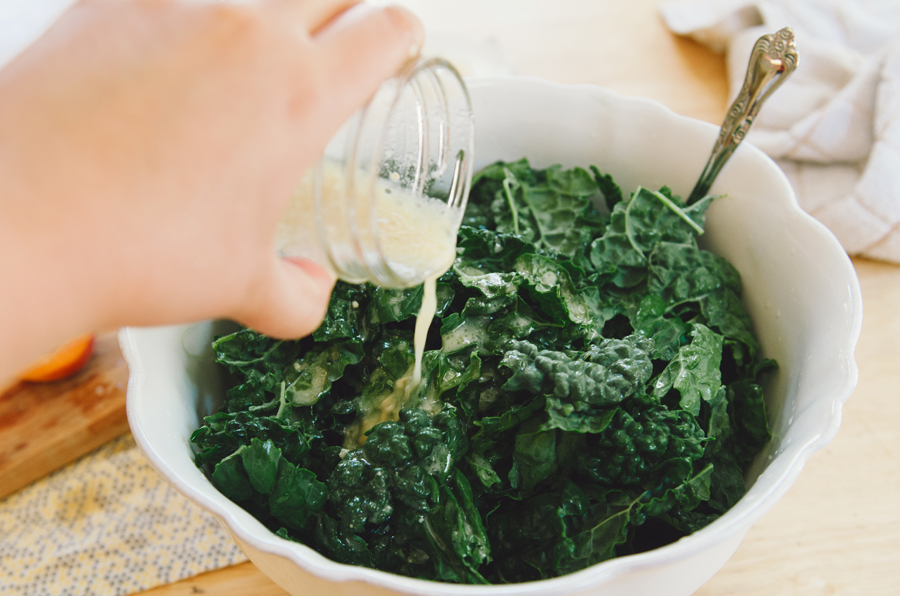 Dressing goes in and coats the leaves. With clean hands you are going to massage that dressing into all of the leaves. This will help to soften up the kale and to pack a lot of flavor into each bite. One of the best parts about a kale salad is how well it keeps! You could prepare a big salad like this at the beginning of the week and bring it with you to work for days afterwards. The kale leaves will not get soggy on you like lettuce.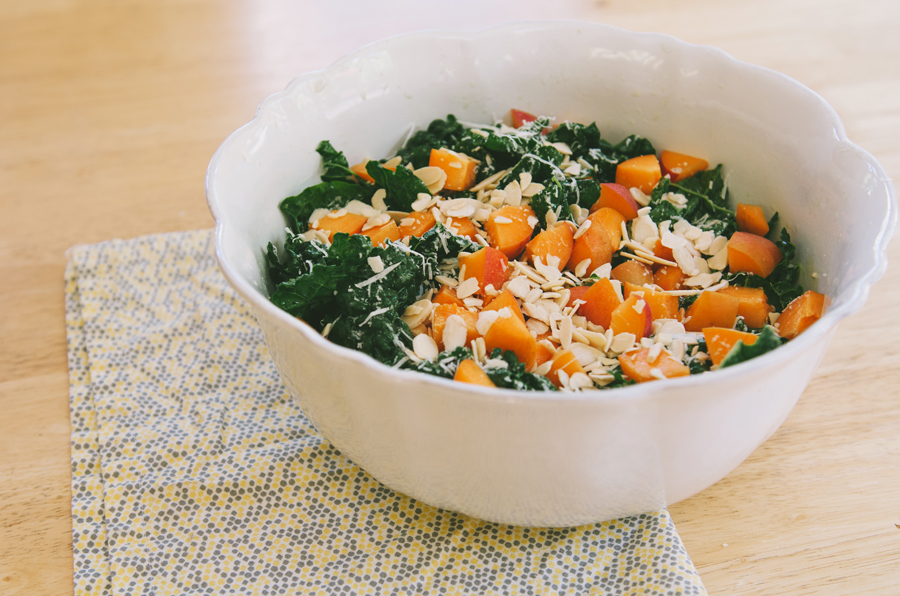 Hello, pretty salad! It's a lot of yummy flavor for not a lot of work. I'm always good with that.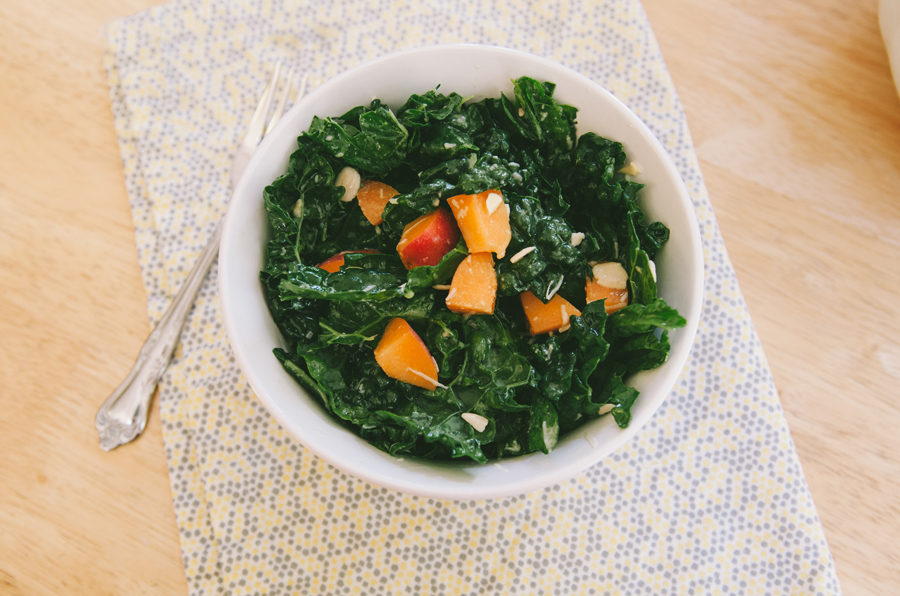 Serve it up, and enjoy! Wishing you a beautiful Monday! xo
Kale Salad With Apricots & Pecorino
Ingredients
1

bunch of lacinato kale, ribs removed and chopped

2

ripe apricots, chopped

1/3

cup Pecorino Romano cheese, finely shredded

1/3

cup slivered almonds, lightly toasted

Juice from 1 lemon

1/4

cup olive oil

1

tsp minced garlic

1

tbs Dijon mustard

2

tsp raw honey
Instructions
Wash and prepare your kale. After you have removed the ribs of your kale, chop it up and put it into a large bowl and set aside.
In a small container, such as a mason jar, add your lemon juice, olive oil, mustard, garlic, honey, and a tbs of your Pecorino cheese. Whisk together with a fork, and then put the lid onto your mason jar and shake vigorously until it all comes together.
Pour your dressing over your kale and using clean hands massage the dressing into the leaves. Allow it to sit for ten minutes or so. The leaves will begin to soften.
Layer your fruit, remaining cheese and toasted almonds on top of your dressed kale. Toss and serve.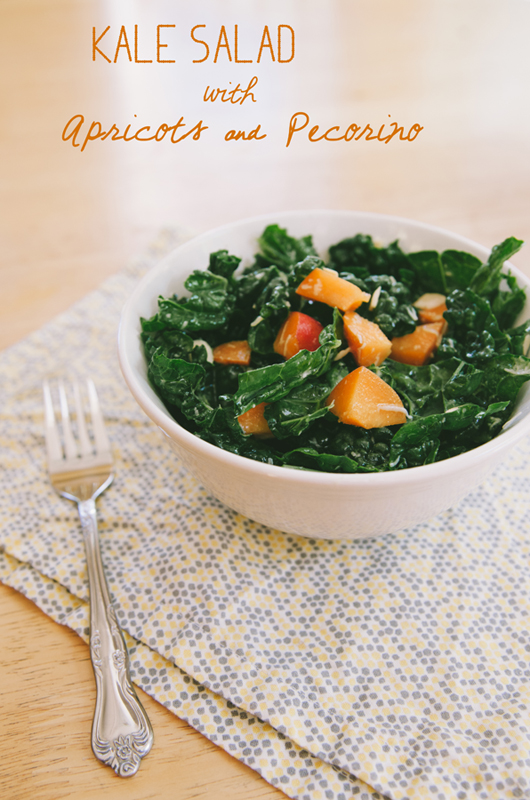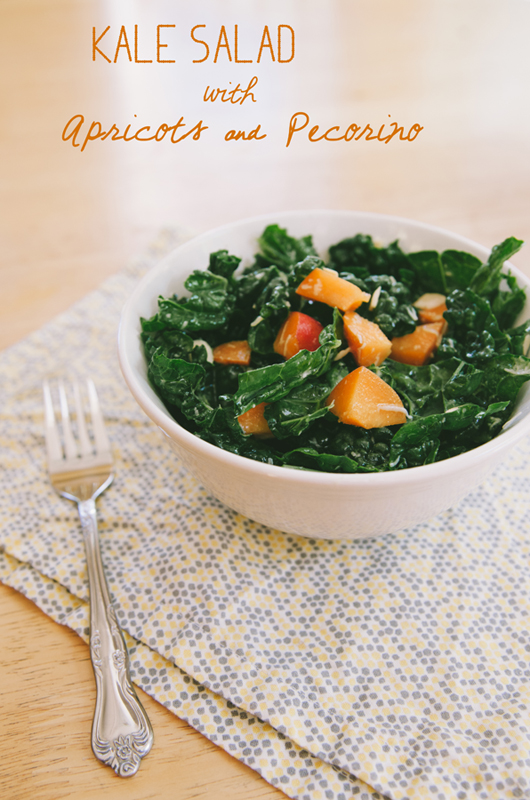 PAID ENDORSEMENT DISCLOSURE: In order for me to support my blogging activities, I may receive monetary compensation or other types of remuneration for my endorsement, recommendation, testimonial and/or link to any products or services from this blog.