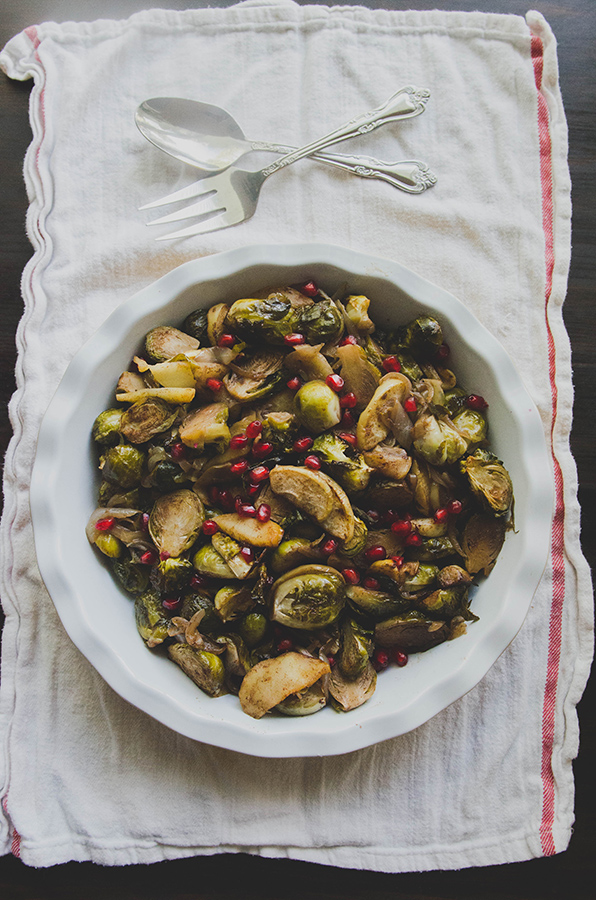 Oh, so you thought you might be able to get through this whole Thanksgiving season without me putting bourbon in something? Nope. You thought wrong. I can't help myself. At least we're throwing it onto some veggies, right? It's only polite to get our vegetables a little bit drunk, and we're nothing if not proper hosts.
Last Friday I found myself in the midst of a cooking frenzy. I had a girlfriend coming over that I hadn't seen in months and my impulse was to feed her all of the things. Truth be told, my impulse was also to AVOID CLEANING MY HOUSE at all costs. So, I made these brussies and apples, some sweet potatoes all gussied up with spices, pork chops… and since I was already in pretty deep there was no harm in busting out a quick cranberry sauce, right? Right. My only regret is that I didn't make a batch of these Dark Chocolate Chip Pumpkin Bars for dessert. Instead we just opted for an entire bottle of wine and watching her puggle get properly chased by my golden retriever. It was like watching a slapstick buddy-cop film from the 80's… but, with dogs. Okay, maybe we had too much wine. But, watching a big dog play with a little dog is very entertaining. See? Even the internet is like YUP!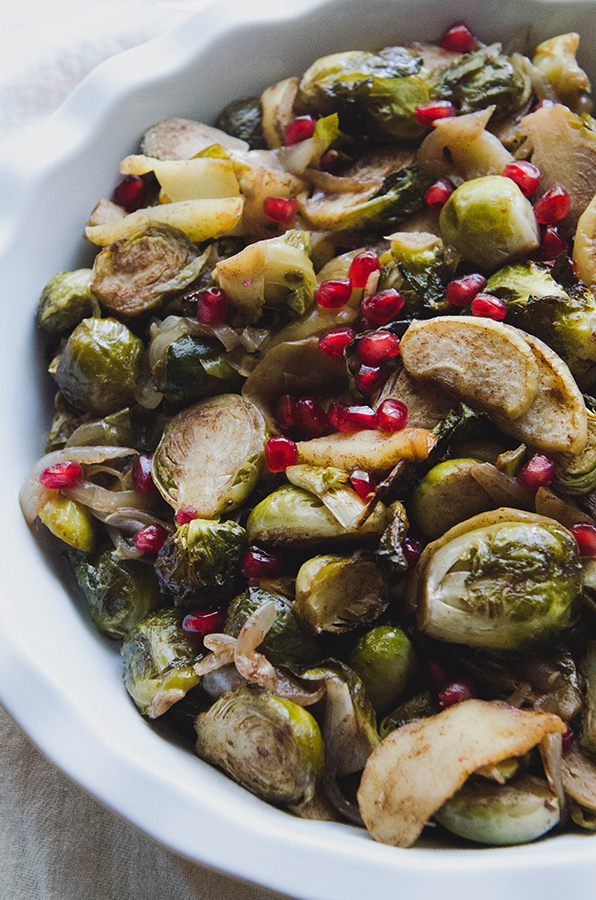 At the end of the night I tried to send my friend home with all the leftovers, but these sprouts were the thing that tickled her fancy most. She left me the rest of the pork because she's a good friend and knows that nothing brings me more pleasure than a cold piece of meat for breakfast. My husband bagged up what appeared to be a metric ton of leftover sprouts and handed them over. Mission feed friend all the things; COMPLETE.
I know I've dished you up sprouts quite a few times. We've made salad. We've had them with bacon and cranberries. We've done the Sriracha thing. But, I'm totally a sucker for sprouts and I can't stop. This recipe would be an epic Thanksgiving or Christmas side. It's got the sweetness from the maple syrup and the apples with all of the warming spices and the bourbon-y goodness. Drunk veggies are happy veggies. You know you wanna…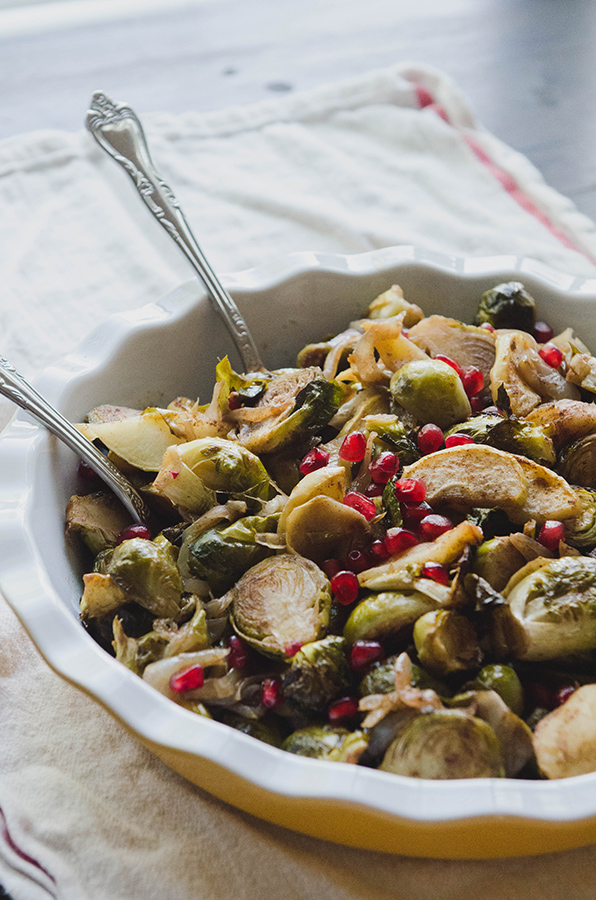 Need some MORE side-dish inspiration? I've got your back…
Maple Roasted Red Kuri Squash With Garlicky Greens
Bourbon & Honey Glazed Carrots
Butter & Wine Roasted Mushrooms
Delicata, Pomegranate & Kale Salad
Spaghetti Squash Pesto Pasta With Chard & Sun-dried Tomatoes
Pumpkin Polenta With Brown Butter & Sage
Tomato & Blue Cheese Biscuits
Feta Chive & Greek Yogurt Biscuits
Maple, Bourbon & Spice Roasted Brussels Sprouts & Apples
Ingredients
2

lbs of Brussels sprouts, halved

3

Honeycrisp apples, cored & sliced

1

medium yellow onion, peeled and sliced

1/2

cup coconut oil, melted

1/4

cup maple syrup

Juice of 1 lemon

2

oz bourbon

1

tbs lemon zest

1 1/2

tsp sea salt

1

tsp cinnamon

1

tsp ginger

1/2

tsp cardamom

1/2

tsp cloves

Pomegranate seeds to garnish (optional)
Instructions
Preheat your oven to 400 degrees.
Line a baking sheet with aluminum foil and set aside.
Add your chopped up Brussels sprouts, apples and onion to a large mixing bowl. In a separate bowl combine the melted coconut oil, maple syrup, lemon juice, bourbon, lemon zest and spices. Whisk together until it's well combined. Pour this mixture over your chopped up veggies and apples. Using clean hands, toss everything together until the veggie mixture is coated really well with the liquid and spices.
Pour the sprouts, apples and onions out onto the aluminum foil lined baking sheet. Spread them out evenly so that they all have a chance to crisp up nicely in the oven. Bake for 20 minutes. Remove from the oven, stir them up and then return them to the oven for another 15-20 minutes. You want the apples to soften and the sprouts to become slightly soft and crispy on the outside.
Serve as a side dish at your favorite meal. Garnish with pomegranate seeds for a little color and festive flair! Enjoy!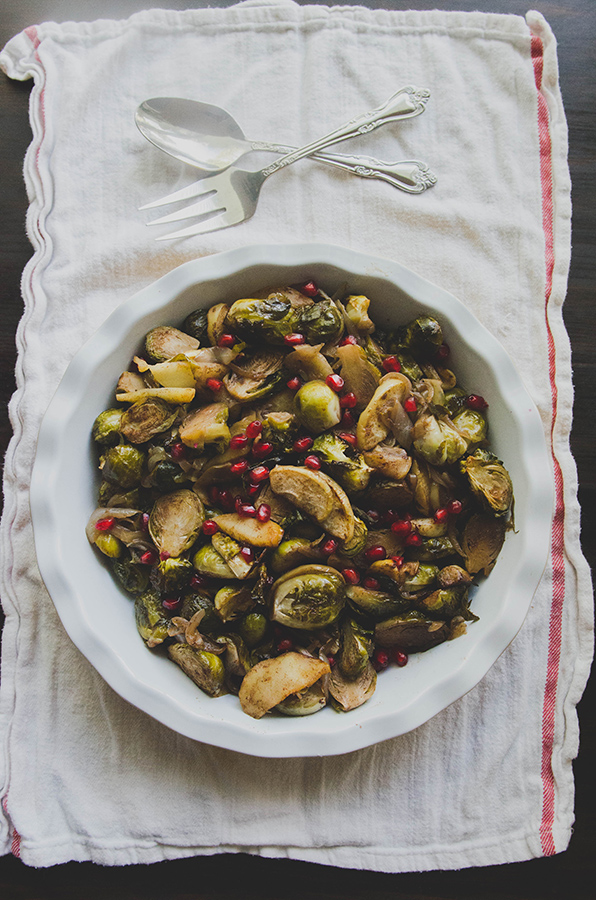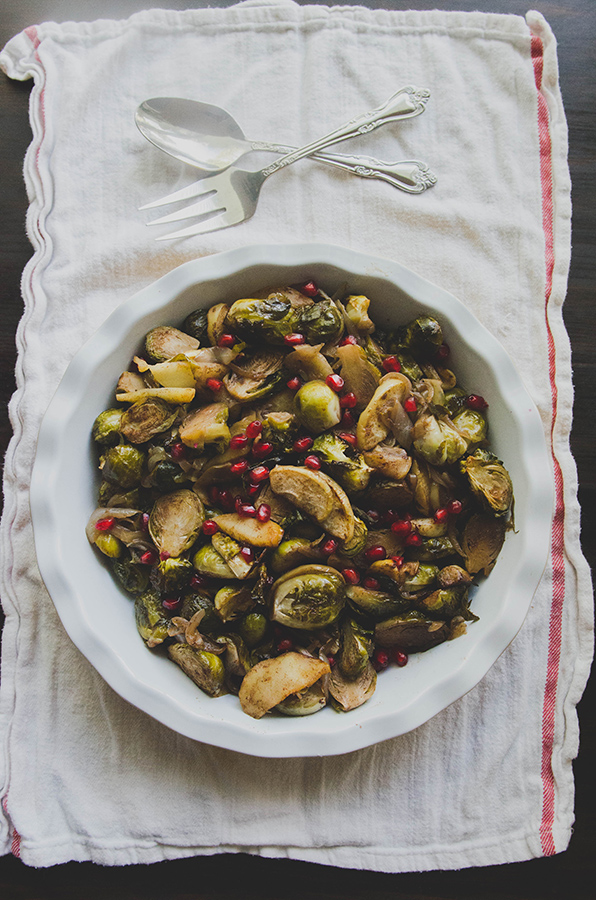 PAID ENDORSEMENT DISCLOSURE: In order for me to support my blogging activities, I may receive monetary compensation or other types of remuneration for my endorsement, recommendation, testimonial and/or link to any products or services from this blog.