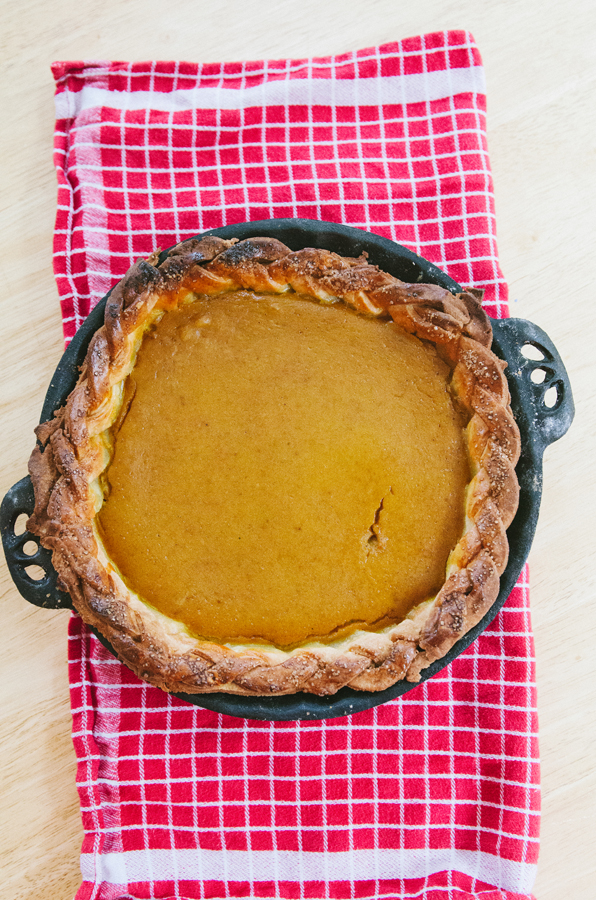 Okay, so I got into this whole pie-making fiasco.
The season overtook me. I broke out the big guns and made pie crust from scratch. Shizz got real. Perhaps a little too real.
It all started with these Gluten-Free Buttermilk & Apple Hand Pies. You can head on over to that post and read about the trials and tribulations of baking a pie. Long story short, following directions is not my strong suit. Sometimes I get a little fast and loose with my measurements. Pie crust is not the place for this. Pie crust is math class. There are rules. Luckily there is also butter. This automatically makes pie crust better than math class. Life rule.
I wasn't intending on posting this recipe on the blog when I made it (hence extremely mediocre photographs), but after posting an Instagram picture of this pie on my Facebook page, I got a lot of comments asking for the recipe. How can I say no? You guys want pie, I'll give you a pie.  Thanksgiving is fast approaching. Who doesn't want to put pie in their face? I don't see any of you raising your hands. If you are, I'm just going to ignore you. Why don't you like pie? I can't fit that information in my brain.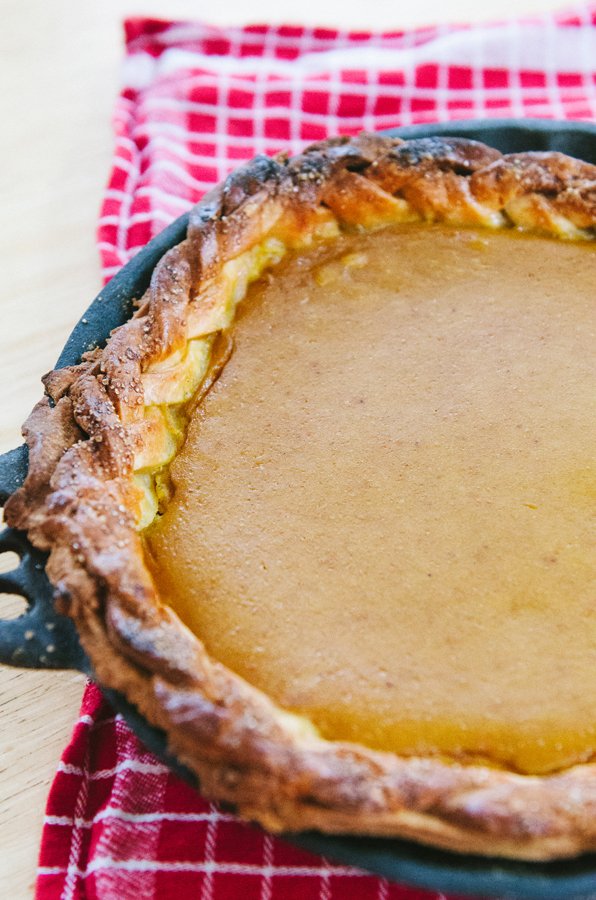 Speaking of Thanksgiving… Let's talk about it. I'm sure most of you already have your menu set, but for those of you who don't, let me help you out. I've got  recipes. I've also got friends with recipes. Let's do a round-up on the fly. You into it? Sweet.
Let's Talk About Thanksgiving Round-Up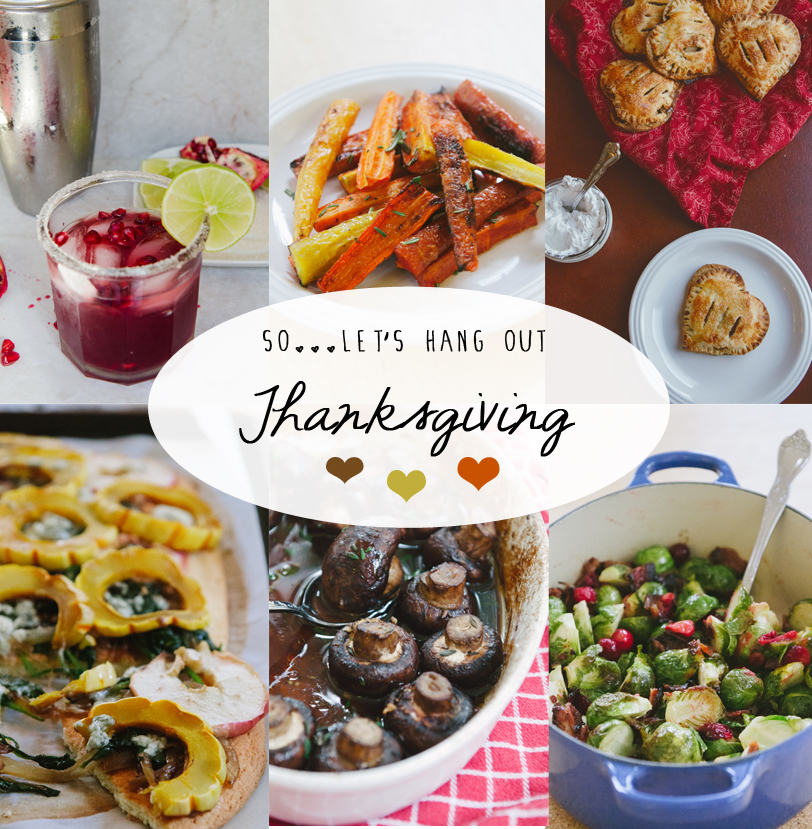 Starters: 
Apple, Delicata & Blue Cheese Flatbread 
Curried Delicata & Sweet Potato Bisque
Veggies & Sides: 
Bacon & Cranberry Roasted Brussels Sprouts With Honey Dijon Dressing
Butter & Wine Roasted Mushrooms
Bourbon & Honey Glazed Carrots 
Delicata, Pomegranate & Avocado Kale Salad
Spaghetti Squash Pesto Pasta With Chard & Sundried Tomatoes
Roasted Cauliflower Salad With Olives & Capers
Kale & Brussels Sprout Caesar Salad
Pumpkin Polenta With Browned Butter & Sage
Dessert:
Gluten-Free Buttermilk Apple Hand Pies
Plantain Skillet Brownies With Salted Caramel Sauce
Chocolate Almond Cookie Pumpkin Ice Cream Sandwiches
Raspberry & Honey Goat Cheese Tartlets
Giant Sunbutter & Chocolate Chunk Cookies
Drinks: 
Ginger Fizz Champagne Cocktail 
Need some more help? Let me enlist some of my friends! We've got your back. ROUND-UPS GALORE!
99 Gluten-Free Thanksgiving Recipes by Tasty Yummies
The Best Healthy Thanksgiving Recipes by Texanerin Baking 
Gluten-Free Fall Cocktail Round-Up by Beard & Bonnet
Gluten-Free & Vegetarian Main Events For Thanksgiving by With Food + Love
Paleo Menu: 50 Thanksgiving Recipes by A Girl Worth Saving
20 Gluten-Free Thanksgiving Side Dishes by Oh My Veggies
100 Healthy Thanksgiving Recipes by Running to the Kitchen 
77 Real Food Recipes For Fall by Real Food Outlaws
Our Grain-Free Thanksgiving Menu by Food Renegade
Easy Thanksgiving Side Dishes by The Organic Kitchen 
Thanksgiving Recipe Round-Up by Clean Simple Living
40 Healthy Recipes For Your Feast by Honey Ghee & Me
Ingredients
1

recipe for Gluten-Free Buttermilk Pie Crust (this recipe makes enough for two crusts)

1

(15oz) can of organic pumpkin

2

large eggs

1

cup full fat coconut milk

1/2

cup maple syrup

1

tsp cinnamon

2

tsp pumpkin pie spice

pinch of salt

granulated sugar for edge of pie (optional)

I egg, beaten (to brush onto your crust)
Instructions
Preheat your oven to 425 degrees
Roll out your gluten-free pie crust and lay it into a lightly greased 9 inch pie dish.
Trim the edged and pinch them in. You can use a fork to pleat the edges if you want. I got fancy and made a braid with extra pie crust and stuck it around the edge.
Put your pan with your pie crust back into the fridge while you prepare your filling ingredients.
Add all of your filling ingredients into a stand mixer and process on high until it is very well combined and smooth.
Pour your mixture into your prepared crust. Brush the edges of your crust with a beaten egg. Sprinkle granulated sugar on top and stick it into the oven. Bake at 425 for 10 minutes, and then turn your oven down to 350 degrees. Bake at 350 degrees for 35-40 minutes or until your pie sets, a skin form on top, and your crust is a lovely golden brown color.
Allow pie to cool completely, and then transfer to the refrigerator to chill.
Serve chilled plain or with whipped cream! Enjoy!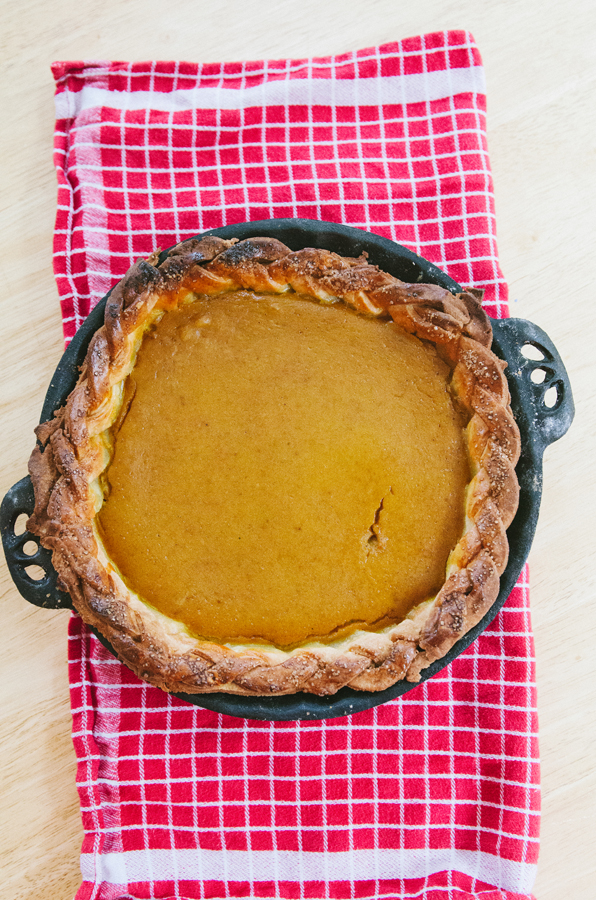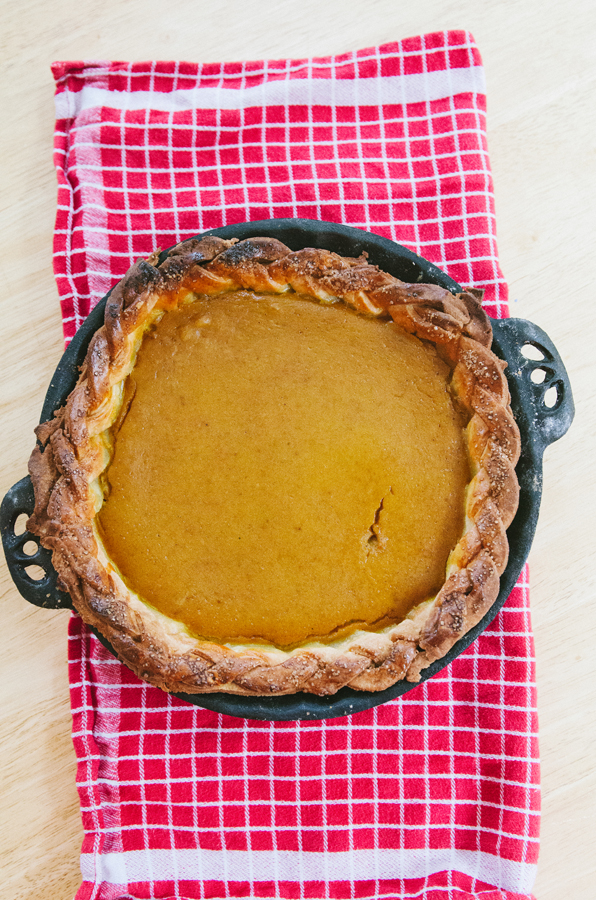 PAID ENDORSEMENT DISCLOSURE: In order for me to support my blogging activities, I may receive monetary compensation or other types of remuneration for my endorsement, recommendation, testimonial and/or link to any products or services from this blog.